IFOP Talcahuano, participates in V Scientific Conference "Educating for Sustainable Development".
October 17th, 2019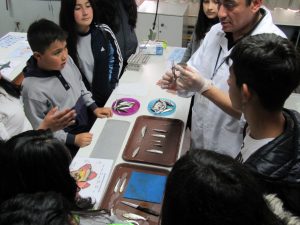 The activity is part of the dissemination requirements of the IFOP Scientific Observer Program.
On Thursday, October 10th , in the Faculty of Natural and Oceanographic Sciences at the Universidad de Concepción offices , the open doors day was held for schoolchildren in the area. It was organized by Filidor Gaete Monsalve High School of Llico jointly with INCAR, Universidad de Concepción and Arauco Municipality.
It was attended by 16 institutions dedicated to marine sciences and aquaculture, including the Fisheries Development Institute (IFOP). The activity began with a talk, where students were explained the role of the Institute as an advisor to the decision making of the national fisheries and aquaculture institutions. Subsequently, a practical activity was carried out with fish sampling and structure extraction, indicating the role of each of these in the fish and its use in research. Finally, the model of an industrial ship was used to explain how the fish they analyzed are extracted from the sea.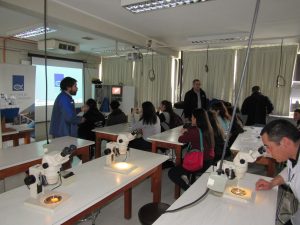 The participants were the Cristian Villouta Field Coordinator and scientific observers Daniel Beroiza, Danilo Oro, Héctor Pastor and Rui- Feng Wang.
There will be a second Scientific Conference that will be held at Llico High School on October 29 and 30, 2019. On this occasion, IFOP will have a Stand and 2 talks for the students of the aforementioned high school.