"Abate Molina" Scientific vessel participates in Joint Regional Cruise coordinated by the Permanent Commission of the South Pacific
October 17th, 2019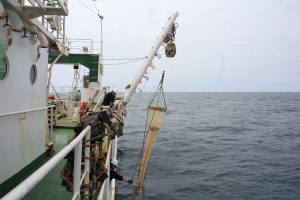 Colombia, Ecuador, Peru and northern Chile are also part.
Between September 14th and October 19th, 2019, the Chilean Fisheries Development Institute (IFOP) is developing the "MOBIO-MPH 2019" cruise, associated with the project "Bio-oceanographic conditions and evaluation of spawning anchovy stock between the regions of Arica and Antofagasta, year 2019 ". The execution is in IFOP Department of Oceanography and Environment hands and the project manager is the oceanographer Jessica Bonicelli.
The cruise main objectives, within the framework of IFOP Fisheries Development Institute advice to the Chilean Subsecretariat of Fisheries, is oceanographic monitoring and anchovy eggs sampling to carry out spawning stock evaluation of this resource. During this period, the 14 researchers and embarked technicians will perform ichthyoplankton, zoo and phyto plankton sampling, nutrients, isotopes, pelagic small acoustics, physical oceanography and cetacean observation.

This cruise, in its oceanographic part, is part of the XXII Joint Regional Cruise and for this reason the scientific vessels of Colombia, Ecuador and Peru are also deployed simultaneously in their respective seas. The Permanent Commission of the South Pacific (CPPS) objective for this joint cruise is to document the variability of the properties of the ocean and Southeast Pacific,adjacent atmosphere during the months of September-October 2019. This results in monitoring of the oceanographic conditions of an extensive maritime area within the framework of the study of El Niño, a regional process that was presented in its warm phase until the month of July just past and currently the ocean-atmospheric conditions are neutral.