IFOP: Workshop on Intellectual Property
December 30th, 2016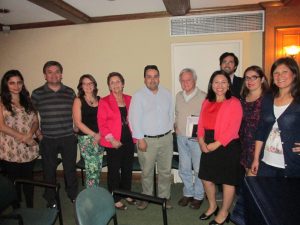 The activity is part of the project "Strengthening of Technological Capacities for the Generation of Public Value of the Instituto de Fomento Pesquero – IFOP – profile stage".
On December 27th between 09:30 and 12:00, at the Marcos Espejo Vidal Auditorium of IFOP Valparaíso, the Instituto de Fomento Pesquero organized the presentation "Institutional Intellectual Property Policy", a workshop in charge of Consultora Andes IP, firm that provides services for the protection of intellectual property assets, innovation and transfer of R+D+I results.
Leonardo Núñez, Executive Director of IFOP explained "the importance of the workshop serves to analyze and project the main asset of our institution which is the generation of knowledge with public value, but with the authorship of our researchers."
Andrea Lobos, an expert lawyer on intellectual property issues, referred to the activity "we fulfilled the mission of disseminating the intellectual property policies that we designed after a 5 month consulting and aimed to conduct a survey of IFOP property assets intellectual property in order to develop intellectual property policies intended to protect the knowledge generated by the IFOP.
In this sense, intellectual property rights are all those rights that are contemplated in favor of the authors or creators of certain works, literary artistic or scientific, and as its name says, are rights and therefore have to caution that those who create these works can be recognized as authors and can commercially exploit such works. We then work on determining what happens to the knowledge that is created within IFOP, who has the power to distribute, exploit and disseminate it.
The Fisheries Law states that IFOP is an adviser, that is to say, it provides knowledge through methodological reports and procedures to know and make decisions regarding marine resources and aquaculture, in that sense, the knowledge and databases that IFOP generates product of these research activities, are public."