IFOP Iquique was part of Explora Science Week participating with an interactive stand
October 12th, 2019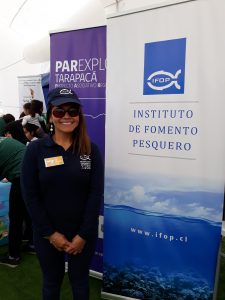 The Assistants could become Fisheries Development Institute scientists a few minutes
Explora Conicyt organized this science fair on Saturday, October 5th , in Buque Varado sector, in Cavancha Park, Iquique, this instance aims to carry out scientific dissemination in a fun way.
Eliana Escudero, IFOP Iquique's headquarters Head explained "Our stand maintained a lot of concurrence throughout the day, due to the interest showed by both in children and adults to know more closely, our main pelagic resource, anchovy.
The Scientific Observers and researchers explained in simple words what we actually do, with this fish, giving children the opportunity mainly to extract their gonads, measure and weigh some specimens. Otoliths observation was also performed, in magnifying glasses, explaining the objective of extracting them. The Otoliths are calcareous structures that are found in the fish skull (middle ear) and whose function is balance, however, when growing in proportion to the fish leaves marks (concentric rings) that allow to determinate their age ".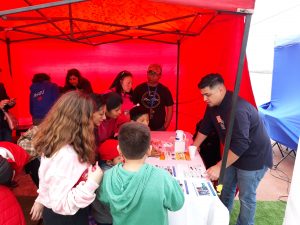 "I thank all the people who participated for their creativity, organization, their commitment: Carolina Navarro, Marjorie Montecino, Yarely Montecino, Marianne Lichtenerg, Lans Urrutia, Antonio Yovich, Jayson Miranda, Juan Cortes, Diego Rojas.
It is very important for IFOP, especially in our city, to publicize and spread our work, "concluded Eliana Escudero.