IFOP inaugurates risk prevention mobile wall
August 1st, 2017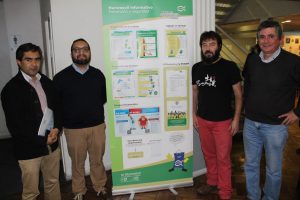 On July 26, IFOP Valparaíso opened "mobile wall", a panel organized by IFOP Risk Prevention Coordinator, Carlos Rodríguez Herrera, which aims to bring IFOP workers closer to issues related to risks prevention.
Carlos added "we wanted to generate a change in the traditional way in which this information is shared with the workers, in a creative and innovative way being this a vital task for safety management success..
Mobile wall has several spaces, which were strategically created, stand out among them, risk prevention at work, field work, psychosocial risks, and the implementation of a mailbox in which people can make their contributions in safety and prevention matters at home.
Communication in security matters is extremely important, it must be effective through different means or existing channels, no doubt or interpretation should be left because this can constitute a risk to people's safety.
Regarding peer committees, he explained that "they are a preventive body, a fundamental pillar in any risk prevention management, because they have a space in the mobile wall aimed to spread their work, on the other hand, the wall also integrates the Emergency brigade or emergency monitors, who unlike the committee perform a reactive task, since theycan intervene once the emergency situation is declared. "