IFOP strengthens its national and international links for red tide study
January 12th, 2018
IFOP signed two important projects with Japan and Australia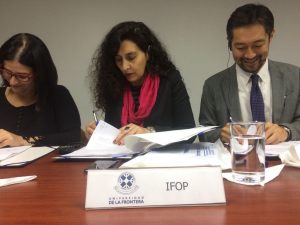 On behalf of Japan with the Japan International Cooperation Agency (JICA) and the Science and Technology Agency (JST) that will finance the study to be jointly carried out with Kyoto and Okayama Universities, in addition to the National Institute of Fisheries.Science Research.
With Australia with CSIRO-Chile (Scientific and Industrial Research Organization of the Commonwealth of the United Kingdom) that promotes collaboration between Chile and Australia to deliver applied world-class research in the mining, coastal marine, and water management areas.
Recently, on September 28th , Fisheries Development Institute (IFOP) inaugurated Harmful Algal Studies Center (CREAN), with its headquarters located in Puerto Montt, under Aquaculture Research Division, whose main objective is to provide continuity and strengthen Follow-up and research studies on harmful algae, marine toxins and associated oceanographic conditions, financed by the regular research program defined by the Subsecretariat of Fisheries and Aquaculture (Subpesca), in addition to establishing a permanent specialized collaboration space for operational actions and research with academia and national and international institutions.
Leonardo Guzmán, head of aquaculture research division explained "IFOP since 2006 is developing the " Management and Monitoring Program for Red Tides in the Regions of Los Lagos, Aysén and Magallanes " study, which is currently in its XI stage, and starting January 2018, the study "Program for the Management and Monitoring of Harmful Algal Blooms and Marine Toxins in the Pacific Ocean from Biobío to Aysén (Phase I) 2018" will begin. Therefore, studies on harmful algae by the IFOP will cover from 37 ° to 55 ° south latitude, considering the regions of Biobío, La Araucanía, Los Ríos, Los Lagos, Aysén and Magallanes, in order to have information Timely and reliable to protect public health and minimize the impacts associated with red tide events.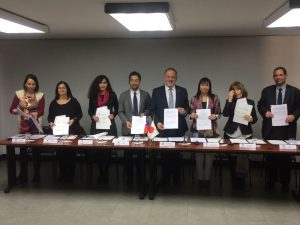 Likewise, CREAN has recently been favored by the awarding of other studies related to this topic. "Development of monitoring methods and a system for forecasting harmful algal blooms for sustainable aquaculture and coastal fisheries in Chile" funded by the Japan International Cooperation Agency (JICA) and the Science and Technology Agency (JST) of this country, starting in April 2018 and lasting 5 years. The central product of this study will be the installation of a molecular biology technique (genetics) that allows identifying, in situ, the types of toxic phytoplankton species that generate red tide. This study is carried out jointly by Japan with the Universities of Kyoto and Okayama, in addition to the National Institute of Fisheries Science Research, and on the Chilean side, with the University of Antofagasta, Universidad de la Frontera and Universidad de Los Lagos. "
Leonardo Núñez IFOP Executive Director added "the Institute has been awarded jointly with CSIRO (Chile), a project funded by the Fund for the Promotion of Scientific and Technological Development (FONDEF) entitled" Hyper-spectral fingerprint of red tide species through the coupling of remote and in situ bio-optical signals in Southern Chile "which is expected to begin in December 2017, a study aimed at determining the" fingerprint "of microalgae pigments, present in the water column, with the aim of apply this knowledge in the use of satellite images, to remotely distinguish pigments presence associated with species that generate noxious blooms (red tide).
In summary, both studies will improve the country's capacity to deal with harmful events, which at a global level have shown in the last 50 years to have increased in frequency, geographical coverage and intensity ".