Research interaction between fishing activities and marine mammals agreement was signed by IFOP and San Francisco State University
July 28th, 2021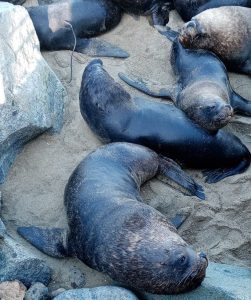 It includes a project development in which IFOP participates with a multidisciplinary team of 10 researchers, together with professionals from the Universidad de Valparaíso and Fisheries and Aquaculture Undersecretary.
In Chile, have been reported 52 species of marine mammals (1). To this group several correspond to species of whales, killer whales, dolphins and the best known, sea lions. In the last decade, the State of Chile has taken measures to take care of the populations of marine mammals that inhabit or transit through our sea.
One of the threats to which they are exposed corresponds to their interaction with fisheries, since, on occasions, they end up damaged or captured by the fishing systems used to extract fish or other species. Therefore, since 2015 the Fisheries Development Institute began a research process aimed at knowing causes, affected species and of incidental capture levels at main fisheries.
On the other hand, as of 2016, the United States began a regulation establishment which obliges countries that export fishery products to that country to comply with bycatch standards equivalent to those of that nation.
Given the problem relevance and the need to consider researchers with international experience, IFOP was invited by the renowned researcher Ellen Hines, from San Francisco State University, United States, together with researchers from Universida de Valparaíso, to develop "Marine Mammal Bycatch Risk Assessment in Chile" project which within its objectives has definition of areas in which interactions between marine mammals and fishing activities are more likely. In this way, it is expected to provide information to fisheries administrative authority in Chile, in order to reduce this interaction. Together with the results of the research, it is expected to generate new technical capacities at the national level that will advance the knowledge of these species and their relationship with fisheries.
The project is funded by The Pew Charitable Trusts (PEW) with t Lenfest Ocean Program (LOP) support and will run until the end of 2022.
Source: 1Acevedo, Jorge & Lobo, Anelio & Vargas, Romeo. (2006). Marine mammals Diversity in Chonos archipelago waters (43 ° 39´ – 45 ° 50´ s), XI region of Chile. Science and Technology of the Sea.
More information about the project at
https://www.lenfestocean.org/es/news-and-publications/fact-sheet/new-research-to-assess-marine-mammal-bycatch-risk-in-chile