IFOP jointly with Biobío Regional Government developed a project that will hold a research on common sardine and anchoveta
February 25th, 2022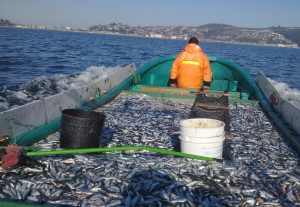 Fisheries Development Institute, with funding from Biobío Regional Government, will develop a research program that will last two years and will improve about common sardine and anchoveta resourcesknowledge . Specifically, this project will be focused on studying reproductive and recruitment bans in the fishing reserve area where Biobío region artisanal fleet operates, to evaluate and characterize stock resources biomass and spatial distribution through hydroacoustic cruises. and biological sampling.
Prospected achievements ending the project are; to strengthen and reinforce weekly monitoring and expand temporary coverage of recruitment and reproductive ban variable periods and include areas that, for logistical or financial reasons, have not been incorporated into this research program that, based on these same resources, It is carried out within the annual regular agreement between Subpesca and IFOP framework .
Jorge Cornejo, project head, pointed out that "the study is of regional and national importance, since it seeks to strengthen biomass estimates that are considered for fishing quotas definition. This would specifically contribute to these resources fishing activity economic and social sustainability, thereby improving sector confidence in its results and reducing potential social conflicts due to fishing quotas questioning.
Additionally, collaborative work between the institutions in charge managing resources and artisanal fishing sector would be reinforced, which is essential to advance the governance and sustainability of fisheries in Chile"
Luis Parot IFOP Executive Director, referred to the project "It is an example of the importance of the integration of IFOP with regional interests and joint work with authorities and local artisanal fishermen's organizations"