IFOP Arica had a brilliant participation in the Science week organized by Explora.
October 12th, 2019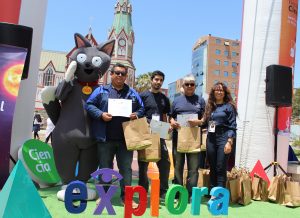 On Monday, October 7th, in Calle Colón between Sotomayor and 21 de Mayo in Arica, the Science Fair convened by Explora Regional Associative Program, executed by Universidad de Tarapacá was held.
During this activity framed in the National Science Week, different institutions such as the Environment SEREMI, Colleges, NGO groups, IFOP and different Departments and Faculties of Universitdad de Tarapacá participated under the stand mode. The theme proposed for this year was "The Sun". taking advantage of its axes: The Sun as Star, Solar Energy, The Sun and Life, Native Peoples and the Sun and its Transversal Axis.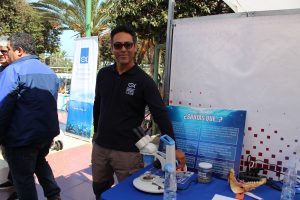 In that context, Fisheries Development (IFOP) researchers and scientific observers from the Institute explained to all assistants, in a simple and didactic way, the effect of the sun on the vertical distribution of different marine species that inhabit the coasts of northern Chile. In addition, the workers took advantage of this instance, to transmit to the visitors the importance of taking care of the environment, and that it is everyone's duty to collaborate in some way in this cause.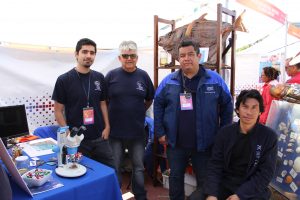 The IFOP stand, had numerous samples of marine organisms that are collected by the institution's workers in their work aboard artisanal and industrial fishing vessels, a collection that was highlighted by the organization, very visited and appreciated by students and community in general.
Hernán Padilla, Head of IFOP Arica Headquarters, stressed out that "these types of instances allow us to bring science closer to students, an action that helps foster critical thinking, analysis and problem solving, key tools in creativity and innovation development especially in children and young people. In addition, he expressed his gratitude to Regional Headquarters officials, for their commitment in this activity, and made a call to more institutions to join in the important task of promoting science in the region of Arica and Parinacota ".