IFOP Arica has an outstanding participation in the 2022 science and innovation fair
October 15th, 2022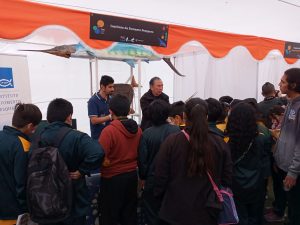 Within the framework of a new version of the Science Festival, organized by the Explora Arica and Parinacota Regional Associative Project (PAR), the Science and Innovation Fair was held on October 7th in Punta Norte Park, whose motto this year It was "Every drop counts".
This instance, which every year brings together in one place different institutions linked to scientific, technological and educational activities, during its inauguration was attended by the North Macrozone's Sciences SEREMI Mr. Rubén Moraga,along with other regional authorities They welcomed the attendees and thanked the different institutions that participated in the activity, including the Universitdad de Tarapacá, CONAF, SERNAPESCA, IFOP, Arica Municipality and various civil society groups.
The aforementioned institutions, through interactive stands, sought to bring science, knowledge and innovation closer to the attendees in an entertaining and playful way. The Fair received a large number of visitors, mainly represented by elementary and middle school students from various schools in the region, and was also attended by neighbors from the northern sector of the Arica commune.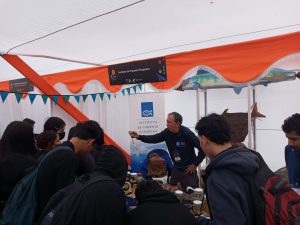 During the activity, Fisheries Development Institute (IFOP) stood out with an interesting and striking stand, which included audiovisual material and samples of various hydrobiological species, which surprised children, youth and adults. The stand was in charge of researchers and scientific observers from the Regional Headquarters, who, together with announcing a sample with some species present in the region and explaining relevant aspects of their morphology, behavior and advances in monitoring technologies, also highlighted the important role that we all have, in caring for the environment and especially our water resources. Since the latter, depending on their availability and quality, enable the ecological balance in the different ecosystems, which provide the necessary sustenance for life, even in extremely fragile environments such as rivers and lakes located in arid zones and also in systems highly dynamic and productive, such as the coastal areas of northern Chile.