IFOP Arica holds talk at Miramar School
September 30th, 2019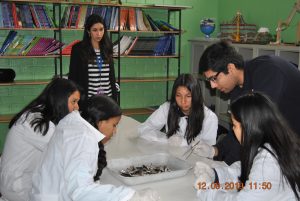 Within the framework of CONICYT Explora Regional Associative Program , 1000 scientists 1000 classrooms.
TheFisheries Development Institute is part of the institutions that support the Explora program throughout the country, this time Arica was the city that received the visit of the talks that IFOP gives in order to bring science to children and young people .
A team of Scientific Observers made up by; Juan Antonio Ríos, Felipe Orellana and Patricio Muñoz, made a day of scientific dissemination, at Miramar school in Arica, they offered a talk called "Eyes in the Sea, Scientific Observers on board !!! .. a look at marine fish's life . "
"Being a Scientific Observer (OC) of Fisheries Development Institute for (IFOP) is a very important task for data collection on fishery resources in Chile. In the Arica and Parinacota Region, anchovy fishing is a resource that supports the fishmeal industry and production of Omega 3. There are also other fishing resources called Highly Migratory such as: Albacora, Maco, Azulejo, Palometa , among others.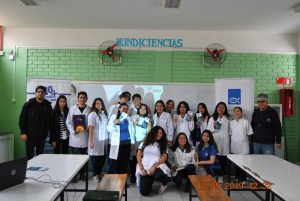 Scientific observers get on fishing boats to collect data that allows them to answer questions such as: How old are the fish? How is their reproductive condition? What do they feed on? What are their migration routes? ?, How is the interaction with the other species that are not the target fishing? During the presentation, images and videos were shown during their embarked work, and at the end of the day a practical laboratory workshop was held that allowed the student community to get closer to the work of the IFOP in the region ".
The IFOP Headquarters Head Hernán Padilla said that "these activities organized by Explora Conicyt, allow us to collaborate bringing the world of science closer to the classroom. On this occasion, the important work of the Scientific Observers and some research programs that our Institute develops in the region were announced. The information was very well received by the students of the Environmental Forgers Group of Colegio Miramar and their Professor Kitaro Arroyo ".