IFOP Arica Inaugurates Gas Chromatography Laboratory
August 7th, 2021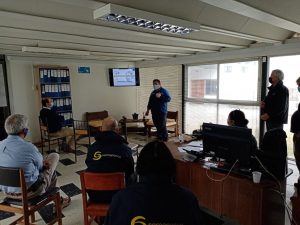 The laboratory implementation, together with enhancing Regional Headquarters equipment, will make it possible to respond to antioxidant butylhydroxytoluene (BHT) for fishmeal samples analysis demand.
IFOP Arica, inaugurated its Gas Chromatography Laboratory, which will be headed by Guillermo Aramayo Tapia, from Pre-shipment Department.
In the ceremony organized by Regional Headquarters, participated IFOP Executive Director Luis Parot, Jorge Miranda, IFOP's Administration and Finance Division head, National Fisheries and Aquaculture Service, Corpesca Arica and Maritime Government of Arica representatives.
It should be noted that BHT is a widely used antioxidant used in fishmeal stabilization, because the latter is classified by International Maritime Organization as dangerous merchandise for maritime transport. This classification of dangerous goods is assigned to fishmeal, because it has a unsaturated fatty acids high content that make it susceptible to undergoing auto-oxidation processes with heat generation. Those that can trigger the product, spontaneous heating with fire consequence in extreme case. For this reason, it must comply with IMDG Code (International Maritime Dangeous Code) defined specifications.
The chromatography laboratory's authorization in the area will allow IFOP Pre-shipment Department, in coordination with Maritime Authority (DIRECTEMAR), to continue to control in a timely manner compliance with IMDG Code specifications in fishmeal destined for maritime transport. .