IFOP Abate Molina Scientific Vessel, suspended its hake cruise due to hydraulic problems in one of its winches, and returned to Valparaíso
August 5th, 2021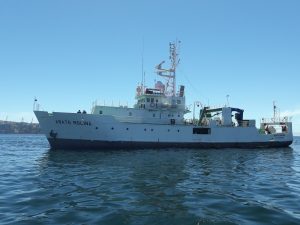 IFOP Abate Molina Scientific Vessel, suspended its hake cruise due to hydraulic problems in one of its winches, and returned to Valparaíso
This is one of the most important cruises carried out by Abate, where it evaluates common hake stock in the area between Coquimbo Region northern limit and the Los Ríos Region, through the hydroacoustic method, Luis Parot IFOP Executive Director, declared "the ship has been in uninterrupted sailing for 30 years, dedicated to fisheries and oceanographic research, to assess the state of marine resources subject to commercial exploitation. Due to its years of operation as well as the intensity of use, it has a record of 259 days sailed in a year, the ship is already beginning to show recurring problems, putting at risk the execution of the research program and being already its replacement urgently.
In 2019 we managed to get President Piñera's government to allocate funds for a new Scientific Vessel (BC) to replace Abate Molina, but they were reassigned due to pandemic emergencies. As reported by IFOP Director, given that this is a State issue and should concern whoever is in charge of governing, they will make efforts to reinstate the initiative in the 2022 budget, and that the order for its construction be extended to FOP .
Meanwhile and once repairs are completed, Abate will resume Common Hake stock assessment cruise, then will execute Daily Egg Production Method (MPDH) cruise between Arica and Parinacota and Antofagasta regions, and then enter the shipyard. for repairs and remodeling aimed at improving living conditions on board. These improvements will allow Abate Molina B / C to last another 5 years serving Chile, while its replacement is incorporated.