King crab and southern scallop Sustainable management in Magallanes
June 3rd, 2020
During the first semester of 2019, Wildlife Conservation Society Chile (WCS) and Fisheries Development Institute (IFOP), signed a Collaboration Agreement which aims to carry out joint actions in Research and innovation field for Magallanes region artisanal fishing development.
The collaborative work of both institutions has its first fruits. With The Walton Family Foundation (WFF)support , it has been possible to finance two research initiatives that seek to provide new information for southern king crab and oyster fisheries sustainable management.
The first initiative presented by WCS is called: "Implementing ecosystem-based management solutions for king crab (Lithodes santolla) and southern oyster fisheries (Chlamys vitrea) in Magallanes Region, Chile" and has a two years duration.
Marine ecoregion of canals and fjords in southern Chile rugged geography , added to the long hours of work at sea as a result of the distances to be traveled and adverse weather conditions, are factors that make artisanal fishing work different from that carried out in the rest of the country, and that should be considered when proposing new management strategies, both in the crab fishery and in the southern oyster.
Rodrigo Guijón, WCS Chile Marine Program Coordinator, indicated that "with research, training and experiences exchange, the project seeks to add value to fishing with active participation of key actors in Magallanes artisanal fisheries. It is about advancing towards the care of the ecosystems in which fishery resources are found from their good management, working together with the fishermen's organizations, processing plants and authorities, to facilitate discussion and guide science towards necessary solutions " .
Another topic that will be adressed by this initiative is "Fishing gear and improvements Assessment of proposal for ecosystemic exploitation of spider crab in the Magallanes region ". Erik Daza Valdebenito, IFOP's Head in the region, stated: "We will work with WCS in a pilot experience to incorporate alternative escape mechanisms to centollera trap development , the idea is to facilitate male specimens release under the minimum legal size of catch (12 cm long cephalothorax) and species that are part of the accompanying fauna associated with fishery. On the other hand, we will carry out field tests with artisanal fishermen in order to evaluate crab fishing gear interaction with large marine cetaceans, the objective is to recommend mitigation measures to the Management Committee and respond to the requirements for the export of this resource to North American market. "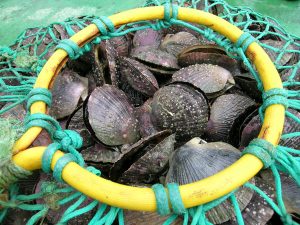 The second initiative, presented by IFOP, is entitled: "Ecosystemic evaluation of southern oyster fishery (Chlamys vitrea) in Parry Bay fjord, Marine Coastal Protected Area of Multiple Uses (AMCP-MU), Almirantazgo, Magallanes region , Chile". Carlos Montenegro Head of IFOP Fisheries Assessment Department, points out:
"The general project's objective is to generate updated information on the condition status of this species from an ecosystemic perspective. For more than 10 years, it has not been known how the oyster beds are in this protected area. We will work together with WCS for two years, to generate scientific and technical information on the ecosystem, incorporating fishermen and authorities in the construction of recommendations that allow managing the sustainable exploitation of this species that today is the object of conservation in the study area " .
Coordinated and informed work with the Undersecretariat of Fisheries and Aquaculture through its Zonal Directorate of Fisheries and Aquaculture and other public services, artisanal fishermen, management committees and other relevant fisheries actors is essential in this project.
"We would like this alliance between IFOP and WCS to give fishermen and authorities valuable tools, especially to improve commercial opportunities without harming resources, in the difficult moment facing the sector," said Guijón.
news and photography: IFOP WCS