IFOP's Director Gonzalo Pereira meets with Minister of Science's Silvia Díaz.
October 21st, 2022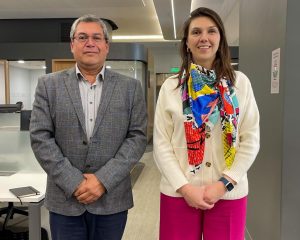 On Monday, October 17th, in Santiago, Gonzalo Pereira, Fisheries Development Institute Director met Minister of Sciences Silvia Díaz on a formal visit. They were also accompanied by the Minister's Chief of Staff, Sebastián Vergara, and Doctors Daniela Díaz, in charge of IFOP cooperation and international affairs and Carlos Montenegro, Fisheries Research Division head. On the occasion the authorities discussed IFOP's research issues, projects and international alliances.
Daniela Díaz explained "in the meeting with the Minister, the Director talked with her about; our role and mission, permanent research programs, and the Institute's role as an institution that does science aimed at informing decision-making in fisheries and aquaculture field of. But she was also told about the other lines of research that IFOP develops in alliance with other institutions, for example, through cooperation agreements, competitive funds and collaborations applications for with other national and international institutions. In this context, he was told that IFOP has highly capable professionals with more than 150 researchers, including many with postgraduate degrees".
It should be noted that IFOP signed a collaboration agreement with the Ministry of Sciences in 2021, in which the main National Fisheries Research Institution (IFOP) will contribute with environmental information as a result of its activity and that they are part of the System of the "Climatic Change Monitoring for fisheries and Aquaculture follow-up System" (www.ifop.cl) to Ministry of Sciences promoted Climatic Change Observatory (https://www.minciencia.gob.cl/occ/).
Press related links: