Global study in artisanal fisheries will provide vital information according to the United Nations
July 16th, 2019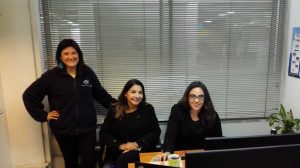 The project in Chile is led by the head of the IFOP Economics Section, Elizabeth Palta and researchers Andrea Araya and Johanna Rojas.
The study entitled "Illuminating Hidden Harvests" is being prepared by Duke University, FAO and WorldFish, while the Chilean component is developed by the Fisheries Development Institute.
The UN report states that, through a better understanding of small-scale fisheries, the study "Illuminating Hidden Crops" will promote policies and programs that will build resilience in the sector to face the dual challenge of globalization and climate change. Therefore, it is critical to ensure that small-scale fisheries – which employ 90% of global fishworkers, many of them in developing countries – are carried out in a productive, sustainable and equitable manner.
The study is expected to be "the most extensive collection of information available up to date on the various contributions of small-scale fisheries in communities and countries around the world," says the United Nations report. This will help fill critical knowledge gaps about small-scale fisheries, particularly in relation to their economic, environmental, social and governance contributions.
Precisely, "in the case of Chile, surveying national artisanal fisheries contributions in the framework of environmental, social an governance aspects is a matter that has not been addressed with a systemic vision and with a documented methodology. IFOP contribution to this study, therefore, will have a specific value for national fisheries policies, "says Elizabeth Palta, head of Fisheries Economics section of IFOP. Meanwhile, Carlos Montenegro, head of Fisheries Assessment Department added "In addition, this study will provide relevant information to support the implementation of Voluntary Guidelines to achieve FAO small-scale fisheries sustainability