Arica´s Junior College Students visited the Fisheries Development Institute Regional Headquarters
June 6th, 2023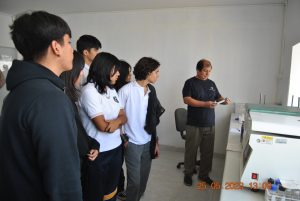 Aiming to promote awareness of the importance of caring for our oceans and publicizing the outstanding work of the Fisheries Development Institute (IFOP) in fishing resources research, evaluation and conservation , Junior College´s students had the opportunity to visit IFOP facilities on May 25th.
The visit, coordinated between IFOP and the school's educational team, provided students with an enriching and educational experience. During this activity, youngsters had the opportunity to learn first-hand about the work carried out by the institute in marine ecosystems.investigation and monitoring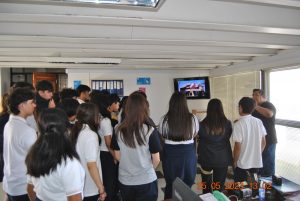 Hernán Padilla, Regional Headquarters head, highlighted this activity importance by stating: "Our main objective is to highlight in young people the importance of caring for our oceans and their hydrobiological resources, and provide background on our work in scientific advice, that allows an informed decision-making to the authorities in the field of fishing and aquaculture. We want to inspire these young people to become future "guardians of our oceans".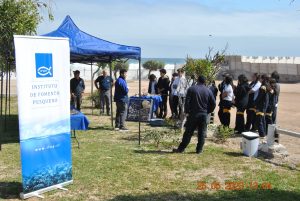 During the visit, students had the opportunity to interact with IFOP professionals, who explained to them methods used to study fishing resources and various studies carried out aimed at mitigating bycatch. In addition, practical demonstrations were carried out in the laboratory that allowed students to learn about some species and better understand the importance of monitoring to preserve marine biodiversity and ecosystems balance.
The students were enthusiastic and committed to the environmental cause, asking questions and actively participating in the proposed activities. The visit to IFOP provided them with a unique perspective on the importance of scientific research in the protection of our oceans and the positive impact that each individual can have on the conservation and sustainability of marine resources.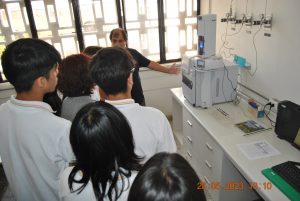 Junior College and Fisheries Development Institute hope to continue strengthening this educational relationship and continue working together on future activities that promote environmental education and care for our oceans. This visit has left a significant mark on the students, who are now more aware of the importance of protecting and preserving our valuable marine resources for generations to come.
press related links: