Great IFOP's participation in LACFC Latin America and the Caribbean Fisheries Congress in Mexico
June 6th, 2023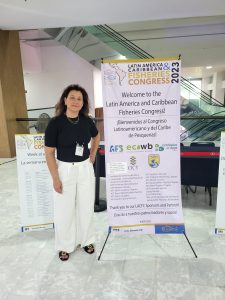 From May 15th to 18th, 2023, LACFC Latin America and the Caribbean Fisheries Congress was held in Cancun, Mexico. This event was sponsored by important organizations such as American Fisheries Society (AFS), Food and Agriculture Organization (FAO), United States Fish and Wildlife Service (USFWS) and National Oceanic and Atmospheric Administration (NOAA), in addition to universities participation and NGOs from the entire region. On behalf of Fisheries Development Institute (IFOP), Carolina Lang Direct Assessments Department researcher, together with Fisheries Assessment Department researcher Claudio Bernal wo participated remotely online .
The congress relevance relies in the fact that it brings together the international scientific community interested in fisheries management and fisheries sustainability and, based on research´s presentation, worlwide current status is discussed and analyzed, along with future challenges. Which demand the stocks's condition , new research technologies and climatic change.
Carolina Lang presented a paper titled: 'Do environmental forcings improve understanding of jack mackerel spawning ground dynamics in the Southeast Pacific Ocean?'. This research was carried out in collaboration with researchers Villy Christensen from British Columbia University, Úrsula Cifuentes from Universidad de Concepción and Juan Quintana from Chilean Meteorological Directorate.
This research aim is to determinate how environment influences jack mackerel (Trachurus murphyi) eggs distribution and spawning habitat availability. Results suggest that eggs distribution changes are an adaptive species's response to local environmental fluctuations that affect suitable spawning areas availability. Findings highlight the need to study climatic change´s impact on horse mackerel distribution and species reproductive timing.
For his part, Claudio Bernal made a synthesis of Chilean southern hake factory discarding trawler fishery evolution, during 2015-2021 period, during which, from Discarding Law application it has been observed a significant reduction in their values, particularly during the last three years, estimated at less than 5% of the catch of species made by this fleet.
press related links: