In Villa Alemana, IFOP's Exhibition Guardians of the Sea Exhibition will have its start point
January 17th, 2019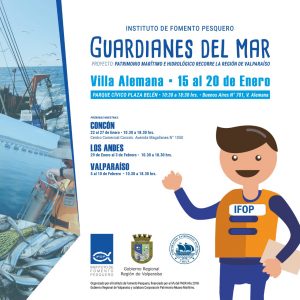 This activity objective is to raise awareness among Valparaíso region population about the importance of the oceans, their natural resources and to show research work carried out by IFOP; It is free and intended for all types of spectators. It opens tomorrow Villa Alemana in Plaza Belén.
Fisheries Development Institute, together with Valparaíso Regional Government, has organized an interactive, itinerant exhibition that will allow visitors to learn how marine resources are protected through scientific research. The exhibition is contained in two containers of 40 feet each plus a welcome tent and specialized staff.
Luis Parot Donoso, IFOP Executive Director explained "in a simple language and privileging images and iconography the exhibition will introduce the viewer to the importance of the oceans for humanity as a source of food, recreation, transportation, climate regulation, and threats that it faces like excessive fishing, pollution, and effects of climate change.
It will have a container dedicated to fishing and another to aquaculture. There the attendees will be able to know how to recognize and study fish age, how is it calculated how many fish of a certain species can be captured? What is the red tide? How do the fish get sick? How is the migration of seabirds and sharks investigated? "
José Sabat, Villa Alemana Mayor added "every visit to our community that involves bringing culture and knowledge to the neighbors, is welcome for this municipality. We have been managing this meeting for some time with the Fisheries Development Institute, to make known in our community the work that IFOP carries out in the protection of the Chilean maritime territory, because we want our people to be sensitive to the importance of the oceans in our region. own quality of life. You are all invited, you can not miss this opportunity to learn even more about our sea and its care "
The project has GORE financing of $ 24,518,371 and will be presented in the following cities and dates: January 15-20: Villa Alemana (Plaza Belén) January 22-27: Con Con (Shopping Mall Con Con) 29-03 February: Los Andes (downtown) 05-10 February: Valparaíso (Regional Intendance Frontis)
The containers were delivered in commodatum by the Chile Maritime Heritage Corporation , to the Fisheries Development Institute with the purpose of developing the traveling exhibition aimed at disseminating the activities of IFOP, in the maritime field.
Mauricio Gálvez, IFOP Technical Specialties and Infrastructure for Research head of the Division said "the spectator will be able to walk outside the containers following a chronological line (through a graph) where he will recognize the main milestones associated with our sea, dates of: important tsunamis, created by IFOP, Sernapesca, Subpesca, the first Chilean research vessel, 200 nautical miles promulgation, etc.
After that, the viewer can go through an exhibition of marine and fishing resources that will be displayed in showcases (dry aquariums).
Virtual effects will also be present. First with interactive games inside the containers, which can be used by visitors on touch screens, where the participant who wishes may be a marine researcher for a few minutes, either recognizing the trophic plot of marine animals, or taking samples of sea water aboard the Abate Molina. There will also be augmented reality, where guests can look through a scientific magnifying glass water samples or otoliths (fish structures where their age is recognized), and through augmented reality they can scrutinize the microscopic details of these samples.
The exhibition will conclude with the possibility that the spectators can take photos in a large panel with marine animals, simulating that they are part of the aquatic ecosystem. This without first taking the message that like IFOP, they can also be Chilean sea. guardians