PUCV held the seminar "Diagnosis of fishery resources in Chile"
October 10th, 2017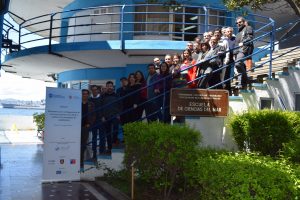 The activity was supported by the Undersecretariat of Fisheries (Subpesca), Fisheries Promotion Institute (IFOP) and Southern Austral COPAS Program from Universidad de Concepcion it was directed to Scientific Committees members, Management Committees, public authorities and private partnerships linked to research and / or fishery resources management.
In Chile, more than 22 fishery resources species are managed with catch quotas and other management methods. At the same time, the Fisheries Law requires scientific knowledge about these resources state and exploitation measures aimed at achieving the maximum sustained yield in the medium and long term. However, the definition of these states implies specific concepts management that are not easily interpreted and not granted their deserved relevance in decision-making instances, as well as in institutional opinion, it is opportune to provide tools that allow a better understanding of the terms involved .
Facing this need, the Marine Sciences School (ECM) from PUCV, together with the IFOP and Subpesca, organized the seminar " Diagnosis of Fishery resources Elements in Chile and exploitation strategies analysis ". The event was held on October 5 with participation of authorities, researchers, professionals, and field related pre and postgraduate students.
In the welcoming remarks, Dr. Samuel Hormazabal, ECM director, emphasized how relevant it is for the institution to collaborate in this type of activities aimed at "supporting the generation of appropriate policies that allow conservation of ecosystems and sustainable exploitation of resources ".
Dr. Cristian Canales, PUCV academic and seminar coordinator, commented that it is important for the decision-making process to be clear about the concepts being handled and to unify definitions. "While there are terms that are handled well also there are other concepts that generate doubts, so it is important to have such activities where we meet with other related institutions in order to share information and raise awareness about some concepts that may be difficult to understand, example, overexploitation ".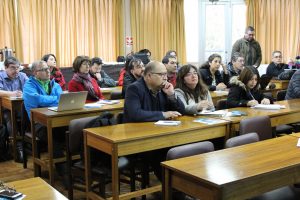 Mauricio Galvez, IFOP's Head of the Fisheries Research Division, explained that these instances are timely because they help new Scientific Committees members and Management Committees to have a common understanding and language, an extension of the universities.
"From IFOP's perspective we are interested in identifying gaps in this area and being ablñe to identify what studies need to be done to better contribute to the fisheries administration. This seminar helps us identify those gaps and ideally it will end up being an instance to suggest proposals on how to move forward to cover them and, as far as IFOP is concerned, to do a better job. "
Víctor Espejo, from Fisheries and Aquaculture Undersecretariat, stressed the importance of this type of activities. "They allow us to reveal every day problems. Decision making considers scientific information and it is from sciences that are developed in study houses and research centers where that information is created. There have been major legislative and budget changes that have made progress, and together with universities and IFOP we are making visible where we are short to progressively closing those gaps. "
During the day, several thematic axes were discussed, among them: legal framework, administrative structure, conservation aspects and relevance of scientific information for decision making; principles of dynamics of exploited marine populations, biological productivity and stock assessment; biological reference points and fishery resources diagnosis; and exploitation strategies simulation, and decision and evaluation of management procedures rules.