Hydrodynamic modeling's role in fisheries advising, aquaculture, conservation, and environmental justice.
November 29th, 2022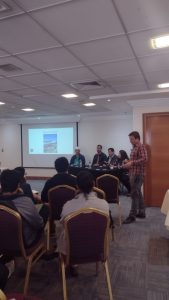 On November 22nd "The role of hydrodynamic modeling in fisheries advising, aquaculture, conservation and environmental justice" workshopwas held at Diego de Almagro hotel in Valparaíso, where Dr. Lars Asplin, from the Norwegian Marine Institute explained that institution's history as well as its scientific role as public policies advisor for Norway's aquaculture sustainable development through numerical modeling and its links with the authority and users information.
As an introduction, MSc Catherine González from Management Areas section gave a talk that included national efforts to unify ocean modeling efforts, utilities and examples of applications that can potentially help make better fisheries and aquaculture management decisions. .
As a second talk, Dr. Jaime Letelier, Fisheries Research Division Oceanography and Environment Department head highlighted integrated information importance of numerical modeling implementation and validation, especially in a climatic change context, such as through "Alert, Prediction and Observation System (S.A.P.O.) for fisheries resilience in a Climatic Change scenario" led by IFOP and which contributes to Eastern South Pacific Multinational Early Warning System for resilient fisheries jointly with Peru and Ecuador.
Among the Attendees, professionals from SUBPESCA, SERNAPESCA, SHOA, SIA and EDF Chile participated.
Press related links: