Director Gonzalo Pereira, arrives to Magallanes Region
May 29th, 2023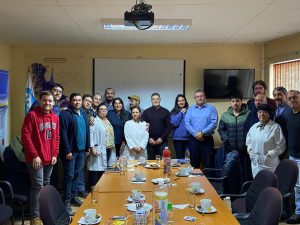 Gonzalo Pereira Puchy traveled to the area to meet with local authorities and IFOP workers, on the occasion he spoke with them about changes that are being made in IFOP in different areas associated with human resources, administration and finance (for example , gender equity, remuneration, salary bands, among others).
The Director was accompanied by a team of IFOP professionals, Dr. Daniela Diaz, in charge of cooperation and international affairs, Dr. Renzo Tascheri, a researcher from IFOP Resource Evaluation Department, and Erik Daza,head of the IFOP Magallanes headquarters.
Regarding their work schedulea, IFOP Director expressed "it gave us the possibility of verifying that IFOP is a recognized, positioned and highly valued institution in Magallanes, which in turn opens up real possibilities for us to substantially increase collaboration with similar institutes".
In the meeting with the Governor, Dr. Jorge Flies Añon, the authority indicated that IFOP will have his support, in the efforts to be able to have its own facilities in the region, he indicated that it would be good to make a joint effort with Sernapesca and CEQUA so that the three institutions have their own physical space. IFOP Director explained to the Governor the interest of the Fisheries Development Institute (IFOP) in being able to access regional public funds earmarked for research.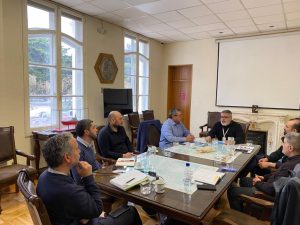 IFOP highest authority , held a working meeting with Dr. Marcelo Leppe, Chilean Antarctic Institute Director (INACH) and other professionals from the same institution, Andrés López Technical Deputy Director, Francisco Santa Cruz and Dr. Cesar Cárdenas , both researchers from the Scientific Department and the latter Chilean representative of Antarctic Marine Living Resources Conservation Commission Scientific Committee – CCAMLR, and talked about strengthening the collaboration between both institutions on Antarctic issues, as well as resources stock assessment and the possibility that INACH can organize a course for IFOP scientific observers, both institutions will begin to work on a collaboration agreement, they also discussed INACH and IFOP participation in CCAMLR scientific committees. Another topic of interest to IFOP and INACH, is the joint study on climatic change and its consequences.
He also held conversations with Dr. Paola Acuña, Quaternary Studies Center Director (Cequa), she made a presentation to IFOP's delegation in which she showed the history of the foundation, highlighting that IFOP was one of the founding members of Cequa and it is currently one of the three institutions that participate in Foundation's Board of Directors.
Paola stated that IFOP work complements that of Cequa, for which she called for the development of a more active research collaboration between both institutes.
In the meeting with Ximena Gallardo, Zonal Fisheries Director of Subpesca, he discussed the efforts being made with the Governor for new research projects for the Magallanes region.
Press related links: