IFOP Director presents at a seminar "The new protection of marine biodiversity agreement on high seas and seabed: Chile and the South Pacific's Perspectives"
November 20th, 2023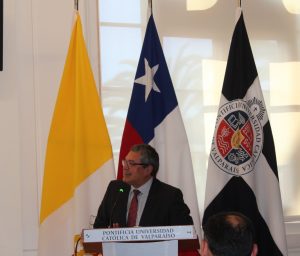 It was organized by the School of Law of the Pontificia Universidad Catolica de Valparaíso
On Monday, November 13th, in Valparaíso, "The new protection of marine biodiversity agreement on high seas and seabed: Chile and the South Pacific's Perspectives" seminar was held.
The Republic General Comptroller, Jorge Bermúdez, participated; Fisheries Development Institute Executive Director and PUCV International Law professor , Gonzalo Pereira; Federation of Fishing Industries of the South Austral FG General Manager, Valeria Carvajal; CA Juan Guajardo Chilean Navy Maritime Interests and Aquatic Environment Director; lawyer Cristian Laborda; Undersecretariat of Fisheries advisor and PUCV Environmental Law professor, Rocío Parra, PUCV International Law professor, Osvaldo Urrutia.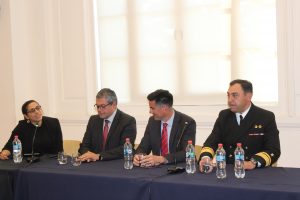 In his presentation, Gonzalo Pereira spoke about seabed beyond jurisdictional waters biodiversity protection new international agreement and its compatibility with high seas fishing international legal regime.
There are other instruments that address other matters, but there was no instrument that will regulate seabed biodiversity protection, so to address this new international text, this seminar was organized in two segments, one presenting negotiation, agreement's content and compatibility with international regulations. The second segment was a debate between three sectors involved in fishing activity, and linked to the sea, NGOs representatives, an Undersecretary of Fisheries advisor and a industrial sector representative. It was a seminar in which it was possible to learn about this agreement´s content and the impacts it may have for Chile from three sectors perspective, which are different but linked.
It had the participation of university students, professionals from the Fisheries Development Institute and Fisheries Undersecretariat.
Press related links: