Invasive Species of Aquatic Systems 1st Ibero-American Workshop on Exotic Open Call
October 2nd, 2021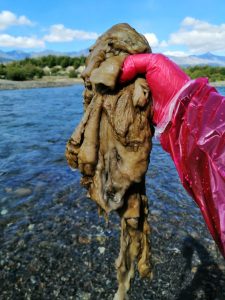 South Subantarctic Consortium Ci2030 Science for Innovation Project invites the Invasive Exotic Species of Aquatic Systems 1st Ibero-American Workshop, which will be held in three sessions that will be held on October 5th, 6th and 13th.
The Workshop's main objective is to generate a common space for information and experiences exchange between public services and universities in Chile and Argentina. The areas of environmental policy and scientific research applied to invasive alien species management in South America hydrographic basins of freshwater ecoregions which will be transversally addressed, incorporating a biosafety framework and the importance of environmental risk scenarios. derived from climatic change and human action.
Researchers and professionals from government organizations with aquatic ecosystems management skills, water resources and management oriented towards hydrobiological pests control and biodiversity protection . Chile, Argentina and Spain will participate in this activity.
Workshop objectives
To know main invasive aquatic species in Chile and Argentina invasion processes, and environmental management strategies applied in the countries represented for the containment and / or eradication of hydrobiological invasive species.
To identify priority conservation areas in rivers, lakes and wetlands, currently free of exotic species, and / or areas that due to their characteristics may be susceptible to the arrival and establishment of emerging aquatic invasive species (golden mussel, Chinese clam, mud snail, jellyfish of fresh water, Rhizoclonium, among several others) that would potentially be present in neighboring countries with Chile.
To transfer knowledge and promote harmonized protocols for monitoring and management of aquatic pests, use with particular emphasis on trans-Andean basins integrated management.
To establish guidelines and strategies to develop a first pilot program for standardized monitoring of aquatic systems, in transboundary basins of south central Chile and Argentina.

The Workshop is Divided into 5 Modules:
I: Governance and environmental policy.
II: Sectorial environmental policy, management, monitoring and inspection of hydrobiological invasive alien species.
III: Management strategies for containment, management and biomonitoring of the invasive alga Didymo in rivers and lakes of Chile and Argentina.
IV: Distribution and ecology of emerging invasive species (Corbicula, Physa, Craspedacusta, Limnoperna, Potamopyrgus and Rhizoclonium) present in aquatic systems of the southern hemisphere.
V: Adaptive management and environmental biomonitoring of water bodies, under risk scenarios (changes in land use and climate change)
The activity will be attended by specialists from Universities of Chile, Argentina and Spain.
Registration, program and more information: http://ciencia2030.cl/inhibe/
Contact: proyectoinhibe2021@gmail.com