Chileans participate in seminar to reduce bycatch in Argentina
October 3rd, 2019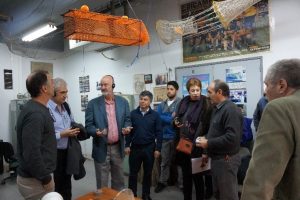 Researchers Claudio Bernal of the Institute for Fisheries Development and Luis Cocas from the Fisheries and Aquaculture Undersecretariat.
On September 18th and 19th, at the Fisheries Research and Development National Institute (INIDEP), Mar del Plata, Argentina, a workshop was held to raise awareness and generate actions to reduce bycatch in fisheries in that country. The workshop included business chambers, captains associations, civil society organizations, government representatives belonging to the fisheries sector and scientific references of Argentina, as well as leading researchers in the reduction of discards from the United States and Portugal (EU).
The sectorialist of the Subsecretariat of Fisheries and Aquaculture of Valparaíso, Luis Cocas, and the senior researcher of Fisheries Development Institute (IFOP), Claudio Bernal, were invited to the activity, who presented on the integral and progressive approach to solve the problem of Discard and bycatch in Chilean fisheries.
These conferences were held within the framework of the Project "Protect marine biodiversity: Ecosystem Approach to Fisheries and Protected Areas", which is executed by the Ministry of Environment and Sustainable Development, with FAO's support. "This Project seeks to broaden the view on fishing activity by promoting the Ecosystem Fisheries Approach (EEP), contemplating not only the fishing resource but also the social and environmental aspects of the activity. In this sense, attending to the reduction of bycatch, through awareness raising, sharing successful examples and in an area of dialogue and debate, allows to improve knowledge of the treatment of the subject and strengthen the participatory approach sought from the Project "Said Francisco Yofre, Officer in charge of FAO Argentina.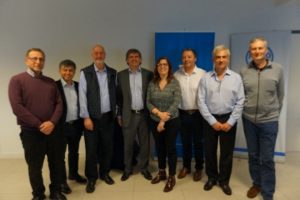 Subsequently, both professionals were invited to share their experiences with INIDEP researchers, an Argentine institute dedicated to research in fisheries and aquaculture in that country; They visited the work done in the area of technology where the use of new selectivity systems for fishing gear and also the development of new products from fish waste and bycacth are investigated.
"The experience was very positive, since we shared our process of investigation and discard reduction with public sector professionals, research, fishermen and Argentine businessmen, in a very sincere dialogue atmosphere ," Bernal said.
In Argentina there is an interest in initiating a bycatch management and reduction process and sees in the Chilean approach a model that allows addressing this problem, highlighting the regulatory framework, work methodology and modern elements of controlincorporation, which was very motivating For our part, we highlight the technical capabilities of Argentine colleagues, mainly in the area of fishing gear selectivity and search for added value of fishing, which through collaboration and exchange we can complement our progress and strengthen both processes " noted Cocas