Chile and Costa Rica join efforts for sea turtles conservation.
February 4th, 2022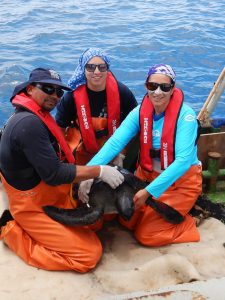 The binacional project first trip "Leatherback turtles fisheries bycatch reduction in eastern Pacific in Northern Chile" ends. This project jointly developed between IFOP and MarViva (Costa Rica) aims to evaluate circle hook effectiveness to reduce sea turtles capture and mortality in Chile. The trip that began on January 17th and ended on January 24th, aboard a vessel belonging to a longline fleet that captures deep-sea dorado in Arica, made a total of 12 experimental sets in oceanic waters at parallel 18° S and between the 70° and 71° W meridians. In these fishing hauls, biological monitoring was carried out to high altitude dorado, known locally as "palometa" and of the sea turtles caught incidentally.
IFOP technical team participating in this trip was Dr. Patricia Zárate, Head of Highly Migratory Resources Monitoring Project. Ecosystemic Approach and expedition leader marine biologist, Ilia Cari Oceanography Master and researcher at the same project, both belonging to Oceanography and Environment department , and Oscar Contreras Management and Sampling Department Scientific Observer.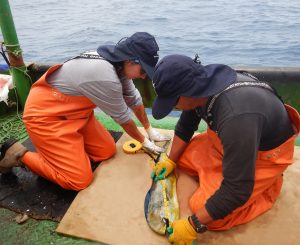 Dr. Zárate commented "on this first trip we were able to verify the presence of two species of sea turtles associated with high altitude Dorado, Chelonia mydas green turtle and Caretta Caretta loggerhead turtle, both Pacific Ocean extinction threatened species. These specimens corresponded to juveniles, some of them had hooks in their mouths and in other parts of their bodies, but all of them were alive and were released in good condition". Zárate adds, "Circle hooks have been successful as a mitigation measure to reduce sea turtles capture and mortality in other parts of the Pacific because they engage more superficially causing less damage compared to traditional "J" hooks. , commonly used by fishermen. In addition to the circle hooks, there are other mitigation measures that will also be considered by this project in medium term".
Researcher Ilia Cari adds "this experiment is a good opportunity to get closer to artisanal fishing sector and deliver tools for correct handling and release not only of turtles but of other marine animals, as well as their correct identification. Additionally, we are compiling oceanographic information in the area of the fishing sets that will be associated these species preferred areas.
Oscar Contreras Scientific observer, who has also frequently worked in artisanal fleets fishing monitoring , commented "the experience in this project first trip has been of great personal benefit since I was able to learn new techniques such as taking blood in sea turtles. It should be noted that artisanal fleets of Arica are characterized by being small vessels with a reduced number of crew members, offering a challenge for research activities such as those carried out on this trip, which is why Oscar highlighted collaboration offered by their skipper and all crew members collaborating in this project.
This project, financed with funds from the National Fish and Wildlife Foundation (United States), is motivated by leatherback turtle, one of the species of sea turtles that has been mainly affected by incidental capture in the Pacific, its population size has seen drastically reduced and as a consequence the number of females that return to nest on the beaches does not exceed 30 specimens. If mitigation measures and good fishing practices are not applied, the species will face imminent extinction in the medium term.
The project will carry out a total of 6 fishing trips between January and March to test this mitigation measure effectiveness which corresponds to the first evaluation of its kind in this fishery and on these marine species.