"Endemic Seed" Data viewer incorporates a new product associated to " Mussel sector Surveys "
June 19th, 2023
Supporting public and private administration management , for Mussel seed collection activity sustainability, "Mussel larval and environmental monitoring program" led by IFOP, built a digital platform called "Endemic Seed", whose attributes allow users to make self-queries, in a simple and intuitive way, about:
Mussel larvae. Where the user can observe abundance of pre-competent (Post spawning) annual cycle and competent (Pre-settlement) larvae.
Seeds capture. where the user can know accumulated uptake of mussel seeds temporal behavior in Yates (Reloncaví) and Castro sector.
Phytoplankton. Where users can make interannual comparisons regarding abundance and phytoplankton biomass of southern Chile.
Environmental variables. Which allows users to consult variables of chlorophyll, historical behavior such as temperature and salinity in the water column.
According to Dr. Cristian Segura IFOP researcher, "the platform's content is designed so that users can segregate and compare consulted information, in historical temporal terms (from 2019 up to date) and territorial in different sampling stations. that this program has. The information update is automatic and is linked to data incorporation in Excel spreadsheets, therefore, at the same time that we generate information, it becomes available to users, significantly shortening response times".
Information that can be reviewed through this link:
https://www.ifop.cl/monitoreo-larvas-de-mitilidos/
New tool integrates " Mussel sectorSurveys "
Among "Mutilid larval and environmental monitoring program" specific objectives is the Surveys of the mutilid sector objective whose purpose is to determine mutilid seed collection activity performance during the ended season. This activity has been carried out since the beginning of the program and is currently carried out by IFOP researchers, Marina Oyarzún, Macarena Herrera and technologist José Videla.
To these consultation tools on "Endemic Seed" platform, a new and important section called " Mussel sectorSurveys" has just been added, which graphically shows some indicators on seed collection perception , by those who directly carry out this activity.
In this new tool of " Mussel Farming SectorSurveys", users will be able to consult territorially and temporarily seed collectors perceptions in the field :
Months of installation and collectors removal
Months where landslides occur
Average seed sizes at the time of collector removal
Biomass per collector meter
Mussels Proportion in collector (mussels, cholga and maltón) at harvest
Capture status indicator (good, fair, poor)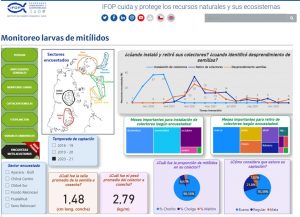 This tool development required a large amount of information systematization, collected territorially since 2018, which was carried out by Colombian intern Andrea Jiménez Carrillo, a Aquaculture Program of the Universidad del Atlántico graduate who has been collaborating with IFOP work team since the beginning of March 2023, through the Program "+Mujer +Ciencia +Equidad" of Science, Technology and Innovation Colombia's Ministery.
According to Andrea Jiménez, "I am very happy to present this interactive space for all those who want to use this information, for this, I dedicated an effort to systematize a large amount of information obtained from the surveys implemented in the mussel sector from 2018 to 2021, for which , it was necessary to segregate the most important questions within a universe of 70 queries made to the seed collectors of the X region of Los Lagos and thus, link them with the main procedures that directly affect the first link in mussel industry. production chain in Chile. At the moment, the data is updated until the 2020-2021 collection season, but we are working on the 2021-2022 update corresponding to the latest results of stage X of the project.
Press related links: