Dissemination Workshop on abalone populations and brown algae
May 15th, 2023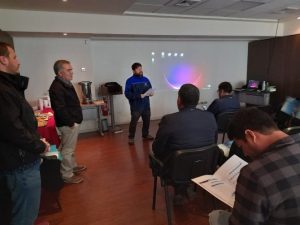 What is abalone and brown algae populations status in management areas? Where do the "seeds" of these resources in my management area go and from where do they arrive? Connecting knowledge for sustainable fisheries management
Within 2022 Fisheries Management Area Monitoring Program framework, a Dissemination Workshop was successfully held on Thursday, April 27th, in which results corresponding to 3 the program work lines were presented: Abalone resource exploitation status evaluation in different geographical areas of the country, benthic resources larval dispersal research and brown macroalgae evaluation of AMERB's population status. The conference was held in Caja Los Andes Conference Room in Coquimbo city and was organized by IFOP Management Areas Section, coordinated by researcher, Álvaro Wilson, with researchers Eliana Velasco and Bryan Bularz collaboration plus Alejandro Dal Santo IFOP's Coquimbo headquarters head valuable support.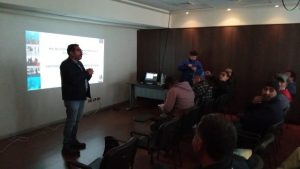 The activity brought together around 25 artisanal fishermen organizations representatives who are AMERB holders, belonging to the geographical area between the south of the Atacama Region and the north-central area of the Coquimbo Region, with the purpose of directly sharing the information generated by the program and discuss its knowledge integration in resources exploited under AMERB regime management .
In addition to IFOP professionals presentations, there were the intervention the Zonal Fisheries Directors from Fisheries and Aquaculture Undersecretary III and IV Regions Javier Chávez, who spoke about the State's role in AMERB Regime operation and faced challenges, providing valuable background to the audience. The event also included the participation of the Regional Fisheries and Aquaculture Director from Coquimbo Region (s), Mr. Cristian López and other SERNAPESCA professionals, with whom the attendees had the opportunity to exchange opinions regarding the different topics. raised in the exhibitions.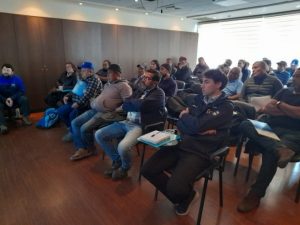 Álvaro Wilson, pointed out that: "…the workshop's success was reflected in the attendees active participation, who showed special interest in the presentations made and in the importance of considering this background when making decisions for their management areas , not losing the opportunity for sectoral authorities to expose different problems they face, all in a collaboration and respect.environment .."
For his part, Alejandro Dal Santo, highlighted that: "reflecting together (sectoral authorities, users and IFOP) on these new AMERBs development perspectives, is undoubtedly a success in itself. Being able to understand that local affectations affect a more regional scope, manifests -necessarily- a view of cooperation and sustainability in resources administration that urgently needs to be implemented in a more comprehensive manner. The foregoing without ceasing to take into account in the equation, factors such as climatic change, global warming and the oceans temperature increase ".
The interest shown by the attendees shows the importance of continuing to promote this type of meeting, strengthening links between resources applied science, administrators and direct users, as a way of strengthening the co-management experience, which constitutes one of the characteristics of the AMERB Regime.