INTERNATIONAL SEMINAR: " Ecosystemic Approach for Aquatic Resources Management "
November 18th, 2020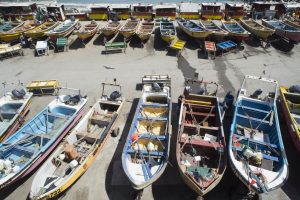 It will be carried out via zoom and will be parallely transmitted via Facebook Live. It will have an international guests group participation.
The International Seminar " Ecosystemic Approach for Aquatic Resources Management "
will be remotely held between December 1rst and 3rd , organized by the Marine Sciences Chilean Society and Fisheries Development Institute.
Dr. Claudia Andrade, Marine Sciences Chilean Society Director (SCHCM) and Universidad de Magallanes (UMAG) Academic explained "According 2013 Fisheries and Aquaculture General Law, aquatic resources management in Chile must move towards an Ecosystemic Approach Management, which will obviously take time. In this sense, Eleuterio Yáñez SCHCM partner and Associate (PUCV) Professor comments that during 2017 Marine Sciences XXXVII Congress, Pontificia Universidad Católica de Valparaíso (PUCV) and Universidad de Concepción (UDEC) organized " Ecosystemic Approach Aquatic Resources Management " symposium. Then, at the XXXVIII 2018 Marine Sciences Congress, the Marine Sciences Chilean Society (SCHCM) and Fisheries Development Institute (IFOP) held the symposium "Ecosystemic Management Approach for Fisheries in Chile in a Climatic Change Context ", which had national and international specialists, establishing the commitment to review the situation in two years."
Dr. Carlos Montenegro from the Fisheries Development Institute added "Consequently, it is appropriate to open a again discussion that shows how the issue is being addressed, what are the gaps and the way forward so that fisheries and aquaculture management with an ecosystemic approach bes a reality in a reasonable period of time
The Seminar is again an SCHCM and IFOP invitation to share existing visions and experiences in this regard, from the local to the international views, and particularly from resources management associated scientific research. For this we have engaged a group of national and international exhibitors who will give us signals of how progress is being made on the subject, what are the gaps, how to improve collaboration and what would be the roadmap for this important challenge ".