Chamber of Deputies Fisheries Commission President visits remodeled Abate Molina Scientific Vessel
April 20th, 2022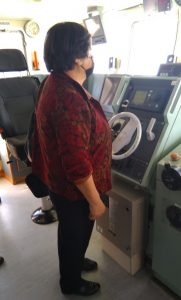 On April 13th.María Candelaria Acevedo, Fisheries, Aquaculture and Maritime Interests Commission President , along with other authorities from fisheries sector, they toured the new Abate Molina Scientific Vessel facilities , which underwent repairs to improve IFOPworkers habitability .
The ship remained 6 months in a shipyard in Puerto Montt, in which it was completely renovated.
Changes made to the ship consisted of more functional and modern furniture for the kitchen, bathrooms, laboratories, complete floors transformation, electronic equipment, satellite television installation , lights remodeling .
The Deputy explained, "I was quite satisfied with the remodeling that was carried out on the scientific ship so that it can meet the objectives for which it was remodeled, but also provide comfort, quality and dignity to its workers who are carrying out this important research work for our country.
Luis Parot IFOP Director added, "I am very happy that IFOP 's workers have a more comfortable, more modern ship, with more space to carry out their daily activities, they remain on board for up to 40 days, therefore it was very necessary that Abateh abitability conditions were improved.