Paint and enjoy a virtual ocean: Free activity brings sea, art and artificial intelligence in this Science Festival
October 21st, 2021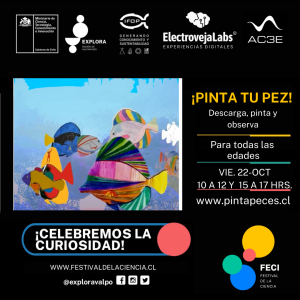 Can you imagine coloring a fish and then seeing it come to life with others? Thanks to science, you will be able to carry out this interesting free activity next Friday, October 22nd, as part of our Science Festival – FECI 2021 offered program schedule.
Through an aquatic habitat simulation, boys and girls, and people of all ages, will be able to paint fish and watch them swim in 3D using different devices in real time, with the Paint your fish activity, framed in the FECI 2021 festivities This innovative platform has been designed by Fishing Promotion Institute (IFOP), ElectrovejaLab and Explora Valparaíso, with the support of the Advanced Center for Electrical Engineering (AC3E) of Uiversidad Técnica Federico Santa María .
To participate, you must enter www.pintapeces.cl on Friday, October 22nd, in two blocks. One in the morning from 10:00 am to 12:00 pm, while in the afternoon the block begins at 3:00 pm and ends at 5:00 pm. Choose your schedule and design your own fish in 3D!
Visitors will be able to download a fish template from the site, paint it and then upload an image of said drawing to be part of this virtual reality under the sea. The species that can be colored are five that are present in the Valparaíso Region: Common Hake, Dogfish, Horse Mackerel, Pippin and Swordfish. In addition, each of these templates have brief descriptions of their characteristics, location and state of conservation with the intention that children can recognize these outstanding local species .
Now you know it! Write down date and time on your calendar and don't miss out on this entertaining virtual reality and artificial intelligence experience.
It should be noted that this activity is part of a grid of a series of virtual activities that will be held in the Valparaíso Region as part of the Science Festival, a national celebration promoted by the Science and Society Division of the Ministry of Science, Technology, Knowledge and Innovation.
To find out about all the activities that will be part of the Science Festival in the Valparaíso Region, you can visit www.festivaldelaciencia.cl and follow @exploravalpo on Facebook, twitter and Instagram.