Minister of Economy Nicolás Grau and Julio Salas Fisheries Undersecretariat , visited Abate Molina Scientific Vessel
November 4th, 2022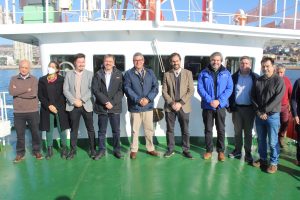 Valparaíso, On Tuesday, July 12th, Nicolás Grau Economy Minister and Julio Salas Fisheries and Aquaculture Undersecretariat visited Abate Molina Scientific Vessel and were received by Gonzalo Pereira IFOP's Director.
At the scientific platform in Chile, the authorities toured the facilities to see on ground Fisheries Development Institute (IFOP) researchers, crew and technicians carried out work
Nicolás Grau commented "it has been a very interesting visit to find out on board of the ship what IFOP does, we have toured the facilities, also seeing remodeling that was carried out a short time ago, we talked about all scientific research that is carried out at Abate Molina, which is a key investigation for all our fisheries regulation"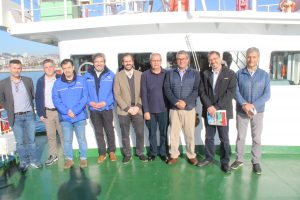 Julio Salas shared strategic guidelines that guide Undersecretariat's work and highlighted public institutions coordinated work in the sector as a key factor. " IFOP's knowledge generation must provide information so that SUBPESCA can define consistent policies and regulatory standards; then SERNAPESCA must duly monitor compliance with these regulations and INDESPA must implement promotion programs in accordance with priority public policies. These institutions must operate as a duly articulated system and we are working on that," the undersecretary specified.
Gonzalo Pereira, IFOP's Executive Director referred to the Economy Minister and Fisheries Undersecretariat's visit : "it is a concrete manifestation of the importance that Fisheries Development Institute has for new authorities, it is also an expression of the policies metioned by the Undersecretariar consisting o a coordinated work of the institutions that make up the public fishing apparatus, in order to achieve a more efficient work. Showing IFOP appreciation for our authorities also has concrete expression in measures support aimed at improving our institution and the work of those who develop their work at IFOP.
The vessel was donated by Japan's Government to Chilean Government , jointly designed by experienced Japanese and Chilean technicians, and built in Japan's legendary MIHO shipyards. It arrived to the country on March 3rd, 1991 it was received at the Molo de Valparaíso by President Patricio Aylwin Azócar, it belongs to Fisheries and Aquaculture Undersecretariat and is operated by Fisheries Development Institute (IFOP).
The vessel is 31 years old, is fully operational, makes 7 cruises a year with 265 operations. It underwent repairs in order to improve workers habitability. It carries out marine resources research which is essential for the work of Subpesca's scientific committees and decisions that the service adopts in the exercise of its powers.
Abate Molina is 43 meters long and is equipped with modern scientific equipment, echo sounders, rosettes, laboratories, nets and other elements that allow it to collect samples of different types and at different depths.