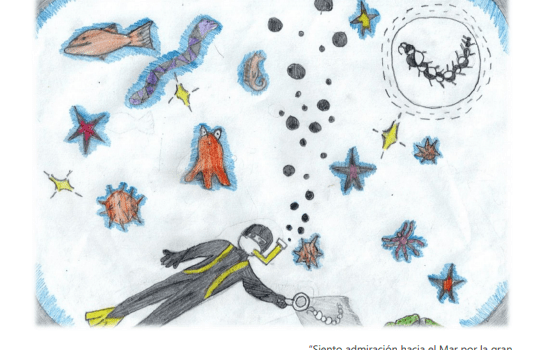 CREAN-IFOP researchers were part of Ocean Manifesto fourth edition.
January 16th, 2023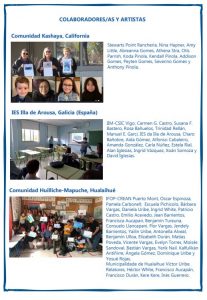 Between May and December 2022 CREAN-IFOP researchers Oscar Espinoza G., and Pamela Carbonell A. worked with 1st to 6th grade children from of Pichicolo Rural School located in Hualaihue, in order to compile the sea importance for their community, and thus, reflecting this relationship in drawings that were integrated into a calendar made up with coastal communities of Illa de Arousa, Galicia-Spain and Pomo Indians Kashaya Band, California, and whose edition has been led since its inception by tMarine Research-CSIC Oceanography Department
Responses by Pamela Carbonell
How did Ocean Manifesto come about?
Ocean Manifesto was born to raise society's awareness about the need to protect marine ecosystems and, at the same time, to take advantage of end of the year's solidarity to support Bicos de Papel families who are affected by childhood cancer in Spain.
What can we find in this year's edition?
In this year's edition, we can find three towns linked to two oceans, the Atlantic and Pacific, which came together to give as a final result a collaborative work between Galicia, Mapuche-Huilliche indigenous communities and California pomo. All are coastal communities and united by their strong bond with the sea.
The drawings illustrate each calendar's month and reflect the love for the sea, its care importance, and impact on their lives. The calendar edition was carried out in English, Spanish, Galician, Kashaya and Mapudungun.
"I feel admiration for the sea because it is very helpful to us " Dominique Uribe, 11 years old. Her partner Evelyn Torres, 10, "feels the responsibility of taking care of the sea to make it grow." Carla Núñez, 14, from Galicia, imagined a colorful and rich underwater background to relate that "the ocean is the first thing she sees when she gets up and that transmits tranquility and joy. "É unha parte de min", she shares.
What did this activity mean for Pichicolo children?
It allowed children to learn about other cultures, other languages, as well as realizing that, like many coastal communities, they share a deep love for the sea, thanks to the strong bond they have with their families, transmitting deep respect and care.
In the closing activity, carried out a few days ago at Pichicolo Rural School, a copy was given to each of the children, and to the "oceanic rapporteurs" who participated throughout this time, in addition to being able to connect remotely with children from Galicia And California where they shared their experiences and explained each one of their drawings.
Press related links: