IFOP researchers attend workshop at Instituto del Mar de Perú
November 11th, 2019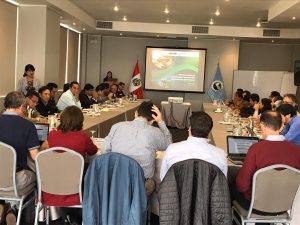 In Lima, the " MONITORING AND EVALUATION OF BENTONIC RESOURCES METHODOLOGIES " was held. The activity was organized by the Institute of the Sea from Peru (IMARPE) with sup workshop port of The Nature Conservancy (TNC) researchers from the Institute for Fisheries Development (IFOP), Nancy Barahona Toledo, Mauricio Mardones and Carlos Techeira were invited together with presentations on benthic resource monitoring system in Chile in areas of free access and evaluation methods in current application, they actively participated in different working groups.
The workshop's objective was to strengthen coastal laboratories professionals and researchers capacities and of IMARPE headquarters staff.Mainly addressing issues of: monitoring, spatial scales and evaluation methods, and their application in benthic resources fisheries management, to provide Ministry of Production scientific advice – PRODUCE and Regional Governments of Peru.
IFOP researchers were invited given their experience in the discussed topics, the implementation in Chile of Benthic Management Plans and IFOP's historical experience in the topics. For all it was an enriching experience especially for what was learned as well as for the opportunity to socialize with researchers from our work area and learn about works developed both in Peru and other invited countries.