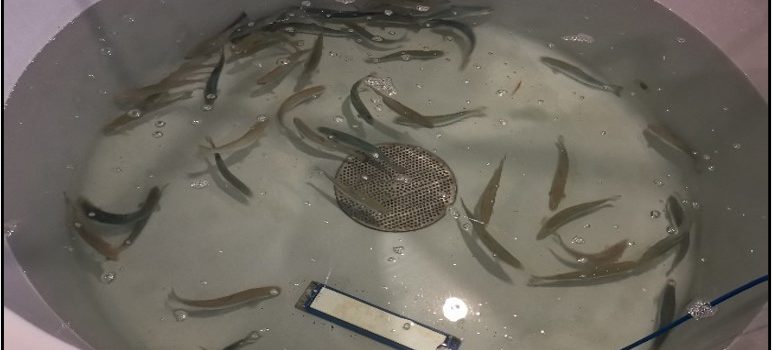 IFOP researchers interesting and innovative scientific article was published by International Journal of Fish Diseases
March 19th, 2021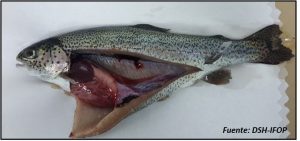 Within "Evaluation and monitoring of the Sanitary situation of wild and feral fish in fresh water and sea" Research Program framework, executed by IFOP Hydrobiological Health Department, a scientific article entitled "HORIZONTAL TRANSMISSION OF PISCIRICKETTSIA has recently been published SALMONIS FROM WILD SUB-ANTARCTIC NOTOTHENIOID FISH ELEGINOPS MACLOVINUS TO RAINBOW TROUT (ONCORHYNCHUS MYKISS) UNDER EXPERIMENTAL CONDITIONS ".
This study objective was to evaluate bidirectional transmission of pathogenic bacterium Piscirickettsia salmonis between specimens of native species snook (E. maclovinus) and rainbow trout (O. mykiss), using cohabitation as a model of experimental challenge.
Juan Carlos Quintanilla, IFOP-Puerto Montt semi-senior researcher, and research's author, explained that "obtained results from this study demonstrated horizontal transmission of P. salmonis from a native fish (not salmonid) such as E. maclovinus , to susceptible salmonid species, rainbow trout, in which clinical disease occurred. In this way, the study provides evidence of native species possible role in piscirickettsiosis epidemiology in the salmon farming industry, and of possible role that these could play as a reservoir and / or biological vector in the disease transmission and persistence of P. salmonis in the environment, as is E. maclovinus. The latter should be the focus of further study.
Furthermore, considering populations coexistence of these two species in Chilean salmon industry cultivation centers, studies addressing native species E. maclovinus populations and migratory characteristics it will be necessary to understand and estimate the impact of maintenance and eventual Spread of piscirickettsiosis among salmonid farms.
Finally, the author of the study thanked researchers from Hydrobiological Health Department and its leadership, who collaborated in the preparation of the scientific article.
Link to the article : https://doi.org/10.1111/jfd.13360
For more information, contact the following email: juancarlos.quintanilla@ifop.cl