IFOP and Sernapesca participate in international beach cleaning day
October 11th, 2022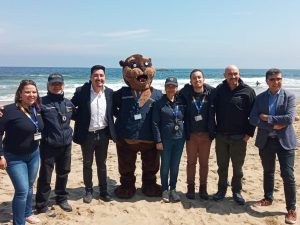 Different authorities attended the event, including Valparaíso's region Economy and Environment ministerial Secretariat ( Seremis) and Valparaíso and Viña del Mar mayors Jorge Sharp, and Macarena Ripamonti respectively.
On September 29th and 30th, 2022, beach dissemination and cleaning activities were carried out in Caleta Portales and Reñaca beach, with a large gathering attended by schools and general public. On this occasion, delegations from Chilean Navy, Municipalities, Universities, Environment Seremi, Agricultural and Livestock Service, National Fisheries and Aquaculture Service (SERNAPESCA), and the Fisheries Development Institute (IFOP) participated in the stand. The IFOP delegation participated in a stand together with SERNAPESCA officials with "Annex V-MARPOL 73/78" brochures delivery and "Color marine life" booklets for children. Sernapesca, for its part, explained to the schools the role and mission of the institution and its care for marine fauna. Sernapesca's Chungongo mascot was the center of attention for children and adults who, in a playful way, learned about the damage caused by the garbage that is thrown into the ocean.
Christian Inostroza, (Seremi) of Economy Ministerial Secretariat, Development and Tourism, from Valparaíso's region, expressed "we believe that this world beach cleaning day is essential to promote care of our natural resources awareness, it is essential that we are the first promoters of our beaches care since they are part of our city, therefore each of the services we have to promote and create awareness of not throwing garbage on our beaches"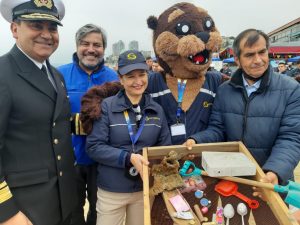 Sernapesca regional director, Soledad Tapia, explained that we participate as National Fisheries and Aquaculture Service in cleaning beaches thanks to an invitation made by the Chilean Navy in relation to the international beach cleaning day, both in our country and in many others. countries,
For us as Sernapesca, it was very important that we shared with Fisheries Development Institute at a stand providing information to the public, we care a lot about raising awareness, informing about damage caused by garbage to marine fauna and for this reason we want to make a call for people to help clean the beaches and also make good use of all the waste they recycle, not to use plastics, since these mainly harm our marine fauna, for example; turtles confuse bags in the sea with jellyfish and feed on them, which can cause death, many seabirds also feed on plastics or microplastics, which is very harmful to them, so you can help us by being aware of the damage caused by garbage on the beaches".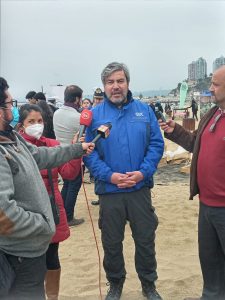 On IFOP's behalf, Mr. Carlos Montenegro fisheries research division's head, spoke about the work that IFOP has been doing on board artisanal and industrial vessels. He pointed out that Chile adopted an international regulation known as "Annex V-MARPOL 73/78", which refers to on board garbage generation regulation, highlighting among them the prohibition of dumping of plastic into the sea in any of its shapes. In this regard, one of the specific objectives carried out by "pelagic discard project" points to the evaluation of the level of knowledge of the regulations, behavior of the crew on trips and the implementation that has been carried out in the ships. To do this, the scientific observers are entrusted with filling out forms during the fishing trip and subsequently disseminating the regulations to the crew members. Various graphic elements have been used as support, such as triptychs, posters and delivery of ecological bags with allusive messages. The evaluation of the study has indicated that progress has been made over time, which is assumed to be the change in behavior that has probably been produced by the recommendations received by the crew. The continuity of these types of activities over time is necessary, since this is the only way to generate awareness for the care of the marine environment and avoid impacts on marine organisms and their habitat.