IFOP jointly with South Pacific Regional Fisheries Organization for Pelagic fisheries Scientific Observers and Coordinators carried out a training course for data collection and standards compliance.
December 18th, 2020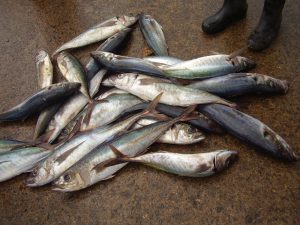 In order to reinforce regulations and standards data collection in South Pacific Regional Fisheries Organization Manegement area (ORP-PS or SPRFMO for its English acronym), this activity was held as part of the Chilean Observer Accreditation Program process to ORP-PS
"Currently there is a regional fisheries management organizations (RFOs) growing network operating in practically all the world's oceans, generally made up of coastal States of a region, as well as other countries with fishing interests in protected areas or protection of these Regional Organizations. These RFOs have in many cases management responsibilities for fish stocks in various areas and provide forum for countries to agree on conservation and management decisions, often including fishing allocations, measures to combat illegal, unreported fishing and unregulated or species protection such as turtles, birds or marine mammals with measures aimed at reducing interactions or their incidental capture in fishing activities carried out there. In ORP-PS specific case, this issue is presented as relevant to our country, either because of the geographic location of its jurisdiction (off all of our coasts outside the exclusive economic zone in the Pacific Ocean) or because of the measures that are taken in it (for example, the horse mackerel quota is sanctioned within this organization).
The ORP-PS is currently made up of 15 member states (Chile, Australia, China, United States of America, European Union, Ecuador, New Zealand, Russian Federation, Peru, Cuba, Denmark, Taipei, Korea, Vanuatu and Cook Islands) and 3 non-contracting states but collaborators of the Convention (Panama, Liberia and Curaçao).
Within the 21 Conservation and Management measures currently in force in the South Pacific Regional Fisheries Organization, the Conservation and Management Measure for the PS-RFMO Observer Program (MCO 16-2019) indicates the obligation of the states that carry out fishing activity in these international waters to have accredited Observer Programs in the convention from 2024 to comply with different coverage requirements established for fisheries, which is why this type of activities is in the Chilean Observer Program accreditation process direct support currently underway ", explained Erick Gaete, in charge of the accreditation process.
Leonardo Caballero, Sampling Management Department Head, commented "among the topics covered in this training, there are specific SPRFMO aspects and regulations, types of fisheries carried out there, measures related to specific Scientific Observation that is executed and reported by Chile, Coordinators and Observers operation and security protocols, mandatory ORP-PS mitigation measures and good practices to avoid incidental birds, turtles and marine mammals capture, as well as protocols for safe handling and release of these species, in case of incidence of this type of situation ".
For the activity successful development, there was support and participation as rapporteurs from various IFOP and Fisheries and Aquaculture Undersecretariat specialists, among which are: Erick Gaete (In charge of the accreditation process), Leonardo Caballero ( Sampling Management Department Head), Marco Troncoso (General Coordinator of the DGM), Patricia Zárate (Highly Migratory Resources Monitoring Program Head), Karin Mündnich (International Affairs Head at Subpesca), Luis Cocas (Bycatch Research and Reduction Program Head and in charge of Accreditation process before the ORP-PS by Subpesca), Marcelo García (in charge of Seabirds in Subpesca Issue) and Jorge Guerra (in charge of Marine Mammals in Subpesca issue ) ".