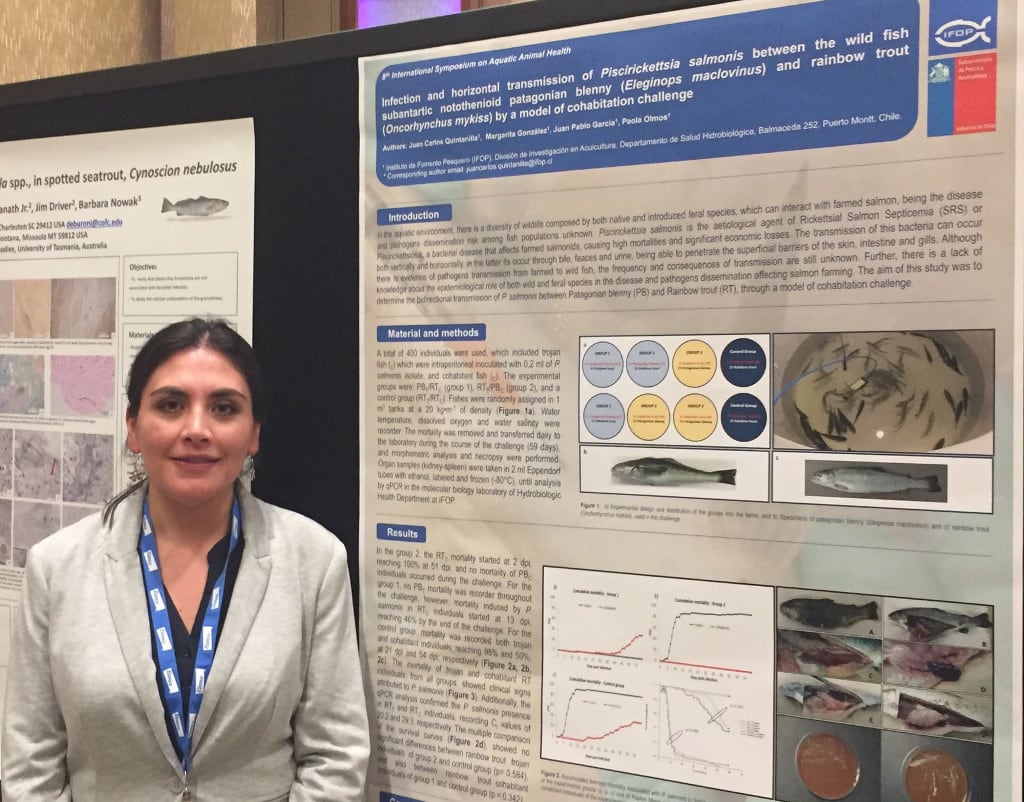 IFOP presented Aquaculture research in Canada
September 17th, 2018
Paola Olmos, researcher from Fisheries Development Institute Aquaculture Research Division, presented fish health research. The two reports correspond to permanent Programs, executed by IFOP Hydrobiological Health Department professionals and technicians financed by Ministry of Economy .
8th International Symposium on Aquatic Animal Health was held from September 2 to the 6th , in Charlottetown, Prince Edwards Island, Canada. From IFOP researcher Paola Olmos attended, who commented "this instance allowed to make IFOP work internationally known . Besides being able to interact with fish health researchers from different countries, including Canada, Norway, Ireland, Spain, Germany, France, Italy, USA, Japan, China, Australia, Brazil, Chile, among others. "
IFOP research was presented in poster format
The first research work entitled: "Antimicrobial susceptibility and Piscirickettsia salmonis isolates classification from southern Chile" corresponds to the first results obtained from Bacterial Resistance Surveillance Program in salmon farming, in which P. salmonis isolates classification is shown, according to Minimum Inhibitory Concentration (MIC) analysis results, in the Wild Type (WT, totally susceptible) or Non Wild Type (NWT, with reduced susceptibility) categories according to epidemiological cut-off value of the CMI analysis. Conclusion, a high percentage of isolates with reduced susceptibility to Florfenicol is observed.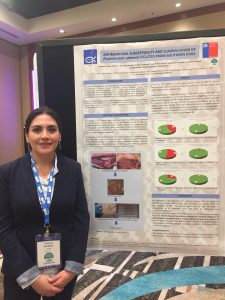 The second research work: " Piscirickettsia salmonis Infection and horizontal transmission between sea bass (Eleginops maclovinus) and rainbow trout (Oncorhynchus mykiss) through cohabitation model challenge "
It corresponds to Evaluation and monitoring Program of sanitary situation of wild species in freshwater and sea obtained results, which demonstrates for the first time the horizontal transmission of P. salmonis from sea bass to rainbow trout under controlled conditions.
Piscirickettsia salmonis (is a bacterium) is the etiological agent of Rickettsial Salmon Syndrome (SRS) or Piscirickettsiosis, which produces high mortality in farmed salmon and therefore a large percentage of both economic and productive losses.