IFOP participates in TVN's "Exploradores" program
September 2nd, 2021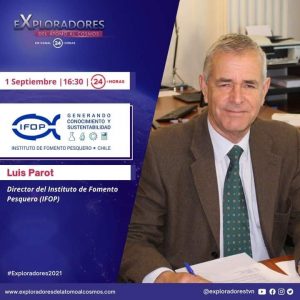 In order for the country's authorities to have quality information in order to legislate around fishing and aquaculture activities and to promote their sustainable development, scientific research from north to south is carried out by IFOP.
To learn more about carried out work by its researchers, tomorrow, Wednesday, September 1rst at 4:30 p.m. journalist Nicolás Vial will interview IFOP Director, Luis Parot, in a new chapter of "Exploradores", from the atom to the cosmos" broadcast by Canal 24 Horas, TVN.
Topics addressed in this chapter are:
NEW TECHNOLOGIES TO MONITOR THE OCEAN
IFOP has been advising the State of Chile on fisheries matters for more than 50 years. Since the 1960s, the institute has carried out annual assessments of distribution and abundance of national fisheries resources, which is why it has been collecting information on marine populations evolution and their ecosystems for more than 50 years.
In order to continue learning about South Eastern Pacific Ocean, researchers are incorporating new technological tools. In the monitoring area, one of the projects that they are developing in agreement with the FAO, consists of a technological platform development to monitor climatic change for long-term decision-making that at the same time provides daily satellite information and wind coastal artisanal fishermen between Ecuador and Antarctica.
In line with the development of numerical models, the team has modeling between Puerto Montt and Punta Arenas, at different scales, which allow us to know how water masses move, transported elements and the effects on the environment. The main results of these models can be found on the CHONOS web portal (http://chonos.ifop.cl).
HOW TO DEVELOP A SUSTAINABLE AQUACULTURE?
Chile is the main aquaculture producer in America and 7th in the world. There is no doubt that aquaculture is a relevant industry in the country, mainly in southern area and that is why IFOP has several research lines on this topic. One of them is to know effects that this activity can generate on health and environmental issues.
In health matters, IFOP has the objective of safeguarding Chile's health heritage, through, for example, diseases that are not in the country surveillance , thus preventing their entry.
In addition to the large aquaculture industry, in a more emerging way in Chile the so-called small-scale aquaculture is also being developed with a view to seeing how this type of cultivation can be developed in the country. Carried out studies aim to find out what types of crops, where, how and who can grow them. It is also conducting analyzes around the effects that climatic change could have on them and, more incipiently, they have begun to work on the repopulation of macroalgae on the seabed, with this it is expected to generate a positive impact on the environment and incidentally contribute to crops development .
In another aspect, a phenomenon that affects both large and small-scale aquaculture as well as the fishery and at the same time public health, is harmful algae blooming , which is why IFOP is studying this issue. How they do it and what is the value of having this information is part of what we will learn about in the next chapter of Explorers.
IFOP AND MARINE RESOURCES AND ECOSYSTEMS CONSERVATION
In order to generate information that allows regulating fishing activity and its sustainability over time, Sampling Management Department has 190 scientific observers throughout the country who collect biological and environmental information on both the large fishery and the fishery. handcrafted, a job that is done both at sea and on land. These data are stored and are what allow reports to be made so that both the Undersecretariat of Fisheries and SERNAPESCA can fulfill their roles as creators of regulations and supervision, respectively.
Also concerned with ensuring the conservation of the highly migratory megafauna (sharks, cetaceans, turtles and different birds, among others) that inhabit the ocean, IFOP carries out different investigations/research. These investigations have a double purpose, on one hand, they seek to provide relevant information that allows mitigating these migratory species involuntary capture , which occurs during fishing processes, and at the same time has an ecosystemic approach, that is, it seeks to understand about these animals , interactions with other species, their habitat, displacement, among others. Also in the line of mitigating the effects of fishing on these species, they are conducting studies to test the use of marine conservation technologies. The application of mitigation measures is relevant not only for the conservation of the species, but also for the fishing activity, since international markets, such as the United States, of great relevance for the country, are generating regulations to limit the export of marine resources that come from of areas where fishing work causes the death of marine mammals.