IFOP has new laboratories in Valparaíso
May 18th, 2020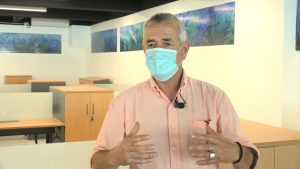 It is a 180 million investment financed under Corfo / IFOP program
An important remodeling was carried out on IFOP Valparaíso headquarters fourth floor, to adapt its structure to the institution's new requirements, which is in charge of carrying out fisheries and aquaculture research which serve to advise national authorities on fisheries policies.
The new design included the creation of modern laboratories for age and growth, plankton and oceanography, large meeting rooms, with more space and lighting, all decorated with art pieces by Jorge Muñoz, which provides a cozy work environment.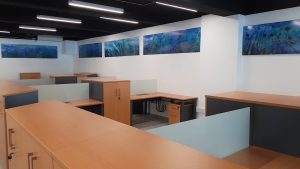 It is a totally new concept whch allows labs unification and other departments that were scattered around the building. The marine operations department which is the unit in charge of everything related to the Abate Molina Scientific Vessel and the radio station that monitors the ship will also be located here;The sampling management department will also have its offices at the new dependencies, this is the unit in charge of all the institution scientific observers.
Executive director Luis Parot explained "What is being done is a deep modernization of the building that started on the 4th floor, in order to facilitate our researchers and analysts work ; In a physical space with more natural light, with better technology and support tools for research development done at this place, it must be remembered that Fisheries Development Institute has a legal obligation to research about fisheries and aquaculture in order to advise the State on measures related to fisheries management and regulations "