International expert trains IFOP professionals
August 30th, 2023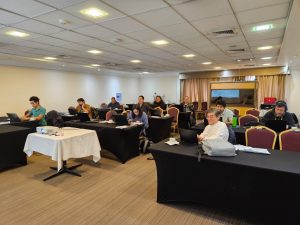 Within the framework of "Evaluation of Management Strategies (EEM) for the Implementation of the Precautionary Approach in Common Hake (Merluccius gayi) in the Context of the General Law on Fisheries and Aquaculture" project, which is executed by IFOP Resource Evaluation Department , "Advanced training workshop on the use of openMSE software packages" was held.
EEM implementation activities began in July with concepts and theory basic training, and openMSE software platform introduction, by a team of Canadian experts from Blue Matter Science Ltd., and continue with this advanced training workshop applied to common hake fishery.
The workshop is aimed at a group made up of administrators from Fisheries and Aquaculture Undersecretariat and researchers from both IFOP and Southern Southern Zone Demersal Resources Technical Scientific Committee and Common Hake Management Committee; and is being taught by Dr. Quang Huynh, Blue Matter Science Ltd Senior Researcher.
Dr. Huynh is Management Strategy Evaluation toolkit (MSEtool) lead developer software library, an open source software for doing next-generation EEM evaluation.