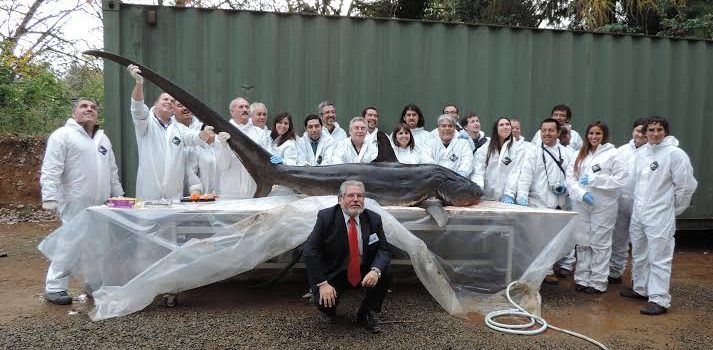 Dr. Julio Lamilla: background and teacher's legacy
May 6th, 2016
Yesterday, March 28, the Direction and the people of Instituto de Fomento Pesquero were informed about the death of UACH Academician; Professor and important researcher, Dr. Julio Lamilla G.
Professor Julio Lamilla, former student of Liceo Armando Robles Rivera of Valdivia and graduated from Biology and Chemistry, Master of Science majoring in Zoology of UACh-, commenced as an academic at Universidad Austral de Chile on August 1979, serving as a research and full time teacher, making important contributions to the knowledge of fish and sharks and the development of academic works on Biology and conservation of chondrichthyes fish; Fishing Biology of marine fish; Taxonomy of fish and Fisheries.
It was a permanent representative of Universidad Austral de Chile at Comité Oceanográfico Nacional (C.O.N.A.), Consultant of Shark Action Plans at (Chile, Peru, Ecuador and Colombia) and Central America (Guatemala, Honduras, Belize, El Salvador, Nicaragua, Costa Rica, Panama and the Dominican Republic). President of Chondrichthye Society of Latin American Pacific (SCPL), Coordinator of Scientific Mission at Universidad Austral and Queensland University for the collective program for shark conservation, Consultant of Regional Agency for Productive Development of Region de los Rios. Since 2008 on, he became International Consultant of the Permanent Commission of the South Pacific (CPPS) about Sharks of the Southeast Pacific. International consultant of OSPESCASICA (Organization of Fishing and Aquiculture for the Central American Isthmus about Sharks). Chairman of the Scientific Committee of Manta Ray demersal fisheries of Secretaría de Pesca. President of the Scientific Committee of Chondrichthye of Secretaría de Pesca. Permanent member of CITES National Committee of the Ministry of Foreign Affairs. Advisor of Regional Committee for Fishing and Aquaculture Development of Regional Government de la Region de los Rios.
During his academic life, he was honored with countless awards; among theme, the Mario Leible award, given by the Chilean Association of Ichthyology, to the best work in cartilaginous fish "skeletal and electrophoretic differentiation of two morphs of Catshark from the Chile central coast"; the 2009 Extension Award given by the Extension Department of Universidad Austral de Chile, as recognition for his constant dedication to connect the university knowledge with the environment.
The relation with IFOP
The activity developed in July Lamilla our institution has been long-standing. At first, he had a very close interaction with different technical researchers and scientist observers of IFOP regarding shark identification. He participated and taught several courses on identification of sharks, rays and chimeras, to improve the sampling process in several industrial and artisanal fisheries, where sharks are the target specie and are predominant as accompanying fauna. It is clear that Julio, above all, was a teacher and he always incorporated the students into his activities.
As a way to reinforce the identification of shark species in the national fisheries, he generated identification cards, where he put updated information about this specie distribution, his capture and fishing systems. He worked also in an extensive photographic archive of these, being his work and perseverance very important nowadays with relation to the issues of biodiversity conservation of habitats and sustainability of national fisheries.
He also actively participated in numerous research projects, among these, the creation of the National Action Plan of Sharks in Chile, currently in force in our country. Another contribution was an upgrade of the chondrichthyes in Chile and the Chondrichthyan discard estimation in artisanal fisheries; and recently, he was the head investigator of satellite marking shark's cruise, when Lamna Nasus specie was marked for the first time in the South Pacific Oriental Ocean. Undoubtedly, his contribution to ichthyology and resource conservation was very important, and particularly in the group of Chondrichthyes. IFOP was an institution he always supported and he participated in the implementation of projects, meetings, seminars, etc.
Last week, he had a meeting at IFOP, with researchers of Highly Migratory Resources Monitoring project; where investigation lines were established about Chondrichthyans, both nationally and internationally. A scientific and technological mission to Mexico was organized and coordinated, in order to start jointly with important Mexican researchers of CICESE and INAPESCA, comparative studies on sharks of Humboldt and California current system. As scientific advisor of CITES, he expressed his concern about the increasing demand for information on sharks, due to the incorporation of these in Appendix II, and the economic and social implications for national fisheries. He told us about his new appointment as Counselor Representative of Fondo de Investigación Pesquera y Acuicultura (FIPA) and his concern about the situation of national fisheries and the need to incorporate new technologies and innovations to mitigate bycatch of sharks. This is a legacy and a task that our country should move forward.
As an academic and trainer of new generations of marine biologists, he was always concerned to integrate them into national affairs and integrate them to research projects, conferences, meetings, workshops, seminars, where he attended with several of his disciples.
Finally, we can say that Julio was a histrionic, simple, transparent and cheerful person, everywhere he made new friends; and at social or scientific meetings, he did not go unnoticed, he was kind and passionately defended his point of view. Our deepest sympathy to the national scientific community for the irreparable loss of Professor Dr. Julio Gomez Lamilla.