IFOP Executive Director participates in a dissemination workshop and meets with authorities in Arica and Parinacota region
August 21st, 2023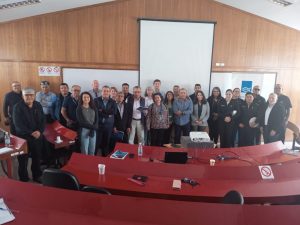 On Tuesday, August 8th, Gonzalo Pereira Puchy Fisheries Development Institute (IFOP)'s Executive Director accompanied by his advisor Daniela Diaz Guisado, made a trip to Arica and Parinacota's region, aiming to strengthen ties with IFOP's Regional Headquarters workers, in addition, carry out a series of meetings with the regional authorities, to address various issues related to the fishing sector.
The day was inaugurated with a dissemination workshop by researcher Carola Hernández, who together with other IFOP researchers who work in the Regional Offices of Iquique and Arica, presented "Monitoring Program for the Main Fisheries Pelagic in the Northern Zone of Chile, covering the regions of Arica and Parinacota and Coquimbo, year 2022" project results . This event was attended by representatives of various institutions, the industry and fishing related groups. Among the participants were Zonal Fisheries Directorate, Sernapesca, Corpesca S.A., Arica's Small Ship Fisheries Owners Union (ASOARPES) and Arica Artisanal Crews Union representatives , as well as other fishery users and IFOP's scientific observers. All attendees expressed their appreciation for holding this workshop, and also expressed the importance that it continue to be held in the city of Arica.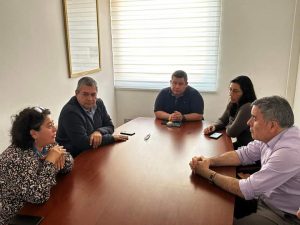 After this activity, IFOP Director and his adviser, accompanied by Hernán Padilla Regional Headquarters Head , met with José Zúñiga Economics Seremi , and with Karen Guissen Fisheries Zonal Director. In this meeting, challenges posed by El Niño climatic phenomenon in the north of the country were addressed, including its environmental, economic and social implications, which have had a special impact on the region. Likewise, it was discussed how IFOP is contributing to information collection so that the authorities, both at the sectoral level and regional authorities, can make informed decisions.
To conclude, IFOP representatives held a significant meeting with Ricardo Sanzana Presidential Delegate, with the purpose of discussing fishing sector sustainable development in the region. During the conversation, it was stressed that Fisheries Development Institute must continue to play an increasingly crucial role in the fisheries investigations carried out in the region, an opinion shared by present authorities.
Press related links: