Various meetings are held by IFOP´s Director with Biobío region users
April 15th, 2023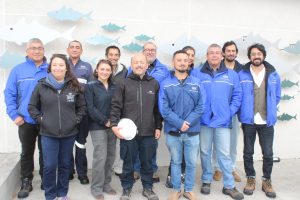 A visit to Biobío region was made by Gonzalo Pereira Puchy, IFOP´s Executive Director the highest institutional authority, accompanied by a team of professionals. The objective of the activity was to learn about in the field work carried out by IFOP's scientific observers in the region, to bring IFOP's work closer to both artisanal and industrial users, and to generate ties to carry out joint activities.
Regarding the activity, Pereira explained "it was very productive and gratifying, since I was able to meet and have close contact with the region´s scientific observers and see how and where fishing resources sampling is carried out.
I also met with IFOP's pre-shipment manager, Cecilia Palma, and we talked about the important work that IFOP does in certifying fishmeal.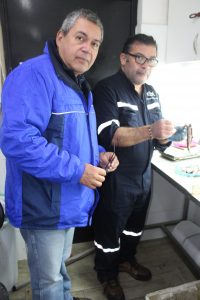 I made a formal visit to the Asipes, (Fisheries Industrialists Association) there I met with president Macarena Cepeda and we talked about IFOP´s research role, they showed me a presentation with Asipes main functions.
I held a meeting with leaders César Jorquera, President of San Vicente fishermen's union association, and Obando Jorquera, 8th region fishermen's and shipowners' union President , where our experts responded to their queries and we promised to continue working on set.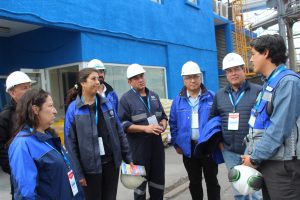 We took a tour of Orizon plant where we were able to observe the entire production process that is carried out on horse mackerel so that it can be used for human consumption."
IFOP Director took the opportunity to introduce IFOP´s Talcahuano new headquarters head, Juan Olivares Cayul, Pontificia Universidad Católica de Chile Biologist, who is in Master's in Biodiversity and Conservation final stage , with extensive 31 years of IFOP´s experience . With a high social and labor commitment, being manager and architect of the Institutional Career plan first Collective Negotiations. His administration will be responsable of positioning IFOP in the Eighth Region and to ensure the workers well-being at Talcahuano base.
En la prensa: