Caletas de Los Molles and Pichicuy Benthic Monitoring Program
February 23rd, 2020
Among IFOP yearly activities there is the main benthic fisheries Monitoring Program, a long-term difussion plan that is being developed, whose main objective is to inform about scientific observers's work developed in different coves nationwide, such as monitored benthic resources.
This plan contemplates a progressive increasement, in this context a dissemination experience was carried out in Pichicuy and Los Molles centers, located in northern Valparaíso Region. These places are visited by thousands of tourists during summer season, therefore, efforts were made with artisanal fishing representatives for the installation of banners and with gastronomic enterpreneurs for table covers delivery in various restaurants of both locations.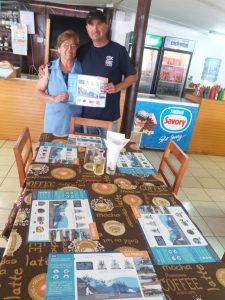 Informative table covers were gratefully welcomed by local enterpreneurs and tourists and will be available throughout the summer, so that people on their vacations can learn about IFOP work and at the same time this action makes much more pleasant waiting for their sea food that can be tasted in these coves.
Pablo Araya, scientist, Marine Science Bachelor and Marine Biologist in charge of this initiative, his research is focused on fisheries biological aspects of benthic resources, with high interest in connecting their fishing knowledge with the community.