UN Conference on the Oceans IFOP's Outstanding participation, held in Lisbon Portugal
November 4th, 2022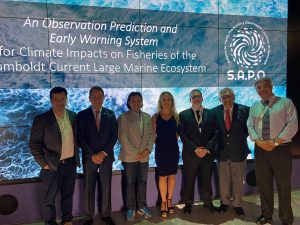 More than 6,000 participants attended, including 24 heads of state and government, and more than 2,000 civil society representatives, advocating for urgent and concrete action to address the ocean crisis.
Lisbon final declaration states "We call for an ambitious, balanced, practical, effective, robust and transformative global biodiversity framework after 2020". Resilient and healthy marine environments are climatic regulation and sustainable development foundation, with potential to produce food and energy for billions of people.
At the UN CONFERENCE ON THE OCEANS held in Lisbon, Portugal, from June 27th to July 1rst, 2022, and within the cooperation agreement between Fisheries Development Institute and Environmental Defense Fund (EDF), Dr. Jaime Letelier, IFOP's oceanography and environment department's head and Sergio Palma EDF Chile Director participated at the international launching of Alert, Prediction and Observation System of Climatic Change Impacts for Resilience and fisheries in the Humboldt Current Great Marine Ecosystem (S.A.P.O) adaptive management of which Imarpe for Peru, Ecuador's Fisheries Institute and IFOP representing Chile are part. In this context, the Institute contributes a structural part to the multinational system through its Climatic Change Monitoring platform for fisheries and ecosystems conservation where small-scale aquaculture is developed.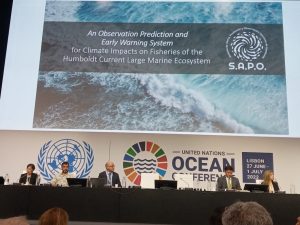 The importance IFOP and EDF contribution to this multinational cooperative system made it possible to incorporate Dr. Letelier and Mr. Palma into the national delegation, as well as the fact that this tool will be launched at the Chilean Foreign Ministry Parallel event called "Chile , a Multisectoral Innovation Hub for the Ocean's effective conservation". In this Parallel Event, mention was made in two presentations of IFOP's active participation in two international projects.
This multinational technological tool will display, through IFOP's system, environmental data collected by 84 meteorological stations which belong to a national citizen network (www.redmeteo.cl), day to day satellite images that cover Ecuador and Antarctica, and environmental information from oceanographic buoys network from The Blue BOAT Initiative project (https://theblueboatinitiative.org). In this latest initiative IFOP has been actively collaborating.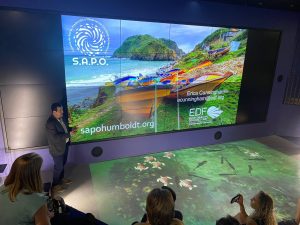 Dr. Letelier participated as an assistant in plenary sessions, various interactive dialogues and parallel events, interacting with various countries delegations including Civil Society Organizations (CSOs) and companies linked to ocean monitoring representatives. The scientist from the Institute highlighted the importance that our researchers must permanently participate in these instances to keep up to date with the international context, expand networks and also to take advantage of opportunities to use our solid experience and innovative spirit to face 21st century's challenges in order to achieve sustainable fisheries. and healthy ecosystems where aquaculture is developed.
Official UN communiqués noted (UN News) that the conference's conclusions recognized a "collective failure to achieve ocean-related goals" so far, leading leaders to renew their commitment to take urgent action and cooperate at all levels, to fully achieve goals as soon as possible. Among problems facing the Ocean are coasts erosion , sea level rise, waters warming and acidification, marine pollution, fish stocks overexploitation and marine biodiversity decrease. The declaration also recognizes that climatic change is "one of the greatest challenges of our time", and attests to the need to "act decisively and urgently to improve ocean's and their ecosystems health, productivity, sustainable use and resilience". The senior political figures meeting in Lisbon underlined that innovative and science-based measures, together with international cooperation, are essential in order to provide necessary solutions. The document reaffirms that the ocean is essential for life on our planet and for our future, signatories highlighted the special importance of applying the 2015 Paris Agreement, and last November Glasgow Climatic Pact to help guarantee health, productivity, sustainable use and resilience of the ocean. We are committed to halting and reversing the decline in marine ecosystems and ocean biodiversity's health and to protect and restore their resilience and ecological integrity.