IFOP delegation participates in scientific cruise in Peru
November 9th, 2023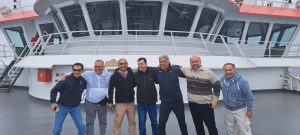 Its objective was international knowledge exchange about El Niño phenomenon and climatic change.
Between October 30th and November 3rd, an IFOP delegation made up of doctors Jaime Letelier and Gastón Vidal together with oceanographer Hernán Reyes participated in an oceanographic cruise aboard Carrasco ship, with professionals from Sea of Peru Institute (IMARPE ), Environmental Defense Foundation (EDF), researchers from Ecuador and United States.
During the activity, two oceanographic stations were carried out, marine currents were measured and a hydrographic survey was carried out.