CHILEAN DELEGATION PARTICIPATES ON 2021 APEC MEETING
August 5th, 2021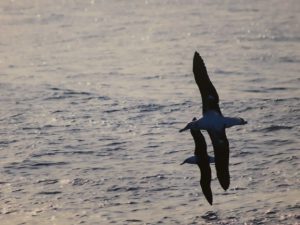 During 2021 Asia Pacific Economic Cooperation Forum (APEC) where this time host country is New Zealand, the first Webinar that invited participating member countries to present their experiences on mitigating the incidental capture of seabirds in fishing operations was developed. (New Zeland Seabird Conservation Initiative, Webinar 1: Seabird Bycatch Mitigation Seabird Bycatch Mitigation)
The meeting main objectives were work and research results sharing, in addition to presenting plans, programs, and future challenges regarding incidental seabirds capture mitigation .
Representing the chilean delegation, Mr. Luis Adasme from (IFOP) Fishing Development Institute SBWG from ACAP official member, Mr Luis Cocas in charge of research programs and discards and incidental fishing reduction programs ( Subpesca) and Mr. Marcelo García also from Fisheries and Aquaculture Undersecretariat who is Chile's ACAP focal point.
Members of the NMFS West Coast Region (USA), NMFSe Northwest Fisheries Science Center (USA), Department of Conservation (N. Zeland), NMFS Pacific Islands Regional Office (USA) and the WPRFMC (USA) participated in the meeting.
The agenda had a large participation through Teems platform and with attractive presentations where advances and initiatives made by the different countries were exposed, which were part of an interesting debate in the questions round.
Luis Adasme, IFOP Fisheries Assessment Department professional, pointed out that during this APEC 2021 version, New Zealand host country seeks cooperation with Asia Pacific Economic Cooperation member economies in order to promote greater marine bird conservation and bycatch threat awareness. Participating in these instances are valuable for Chile and for the Institute in particular, as they allow to expose research work and technical advice carried out by the institute for fishing authority decision-making, all of this in direct harmony with the ecosystemic approach promoted by current Fisheries Law (LGP). Likewise, it allows scientific-technical knowledge exchange with other researchers in the area.
For his part, Luis Cocas from Fisheries and Aquaculture Undersecretary, indicated that this instance was an important platform for exchanging experiences with international experts and disseminating the extensive work that has been carried out in Chile since 2013 in conjunction with the other management agencies national fishery, which has allowed significant progress in bycatch diagnosis, reduction and control in national fisheries, making the country a global benchmark in the matter. The foregoing has been framed in the implementation of Law No. 20625 (known as Discards and Incidental fishing Law) which provided legal and working framework that allowed improving scientific observation programs, new control tools incorporation. (such as industrial fleet on board cameras) and a significant ecosystemic approach advance in fisheries management implementation.
Finally, to say that Chilean waters are part of this Pacific Ocean great migratory corridor for these magnificent seabirds, the Humboldt current being one of the most productive marine ecosystems in the world and an important assiduous feeding area for 15 species of albatrosses and petrels, many of them visitors. Likewise, our country has under its jurisdiction several globally relevant breeding sites, which comprise 20% of the world population of the black-browed albatross.