"Chilean Contribution to the Multinational Alert System for the Resilience of Fisheries in the Great Humboldt Current System"
September 26th, 2022
Dr. Jaime Letelier Pino, head of IFOP Fisheries Research Division of Oceanography and Environment, presented "Chilean Contribution to the MultinationDepartment al Alert System for the Resilience of Fisheries in the Great Humboldt Current System (S.A.P.O) ", at the "international conference on Eastern Rim Upwelling Systems (EBUS): Past, Present and Future & Second International Conference on the Humboldt Current System" held in Lima between September 19th and 23rd, 2022.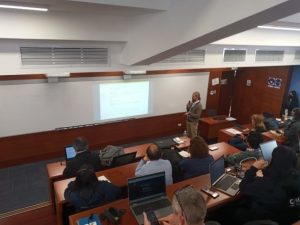 The exhibition was part of the shared session with leading scientists from the "Institute of the Sea of ​​Peru", the "Public Institute for Aquaculture and Fisheries Research" of Ecuador and the Environmental Defense Fund (EDF). Leading scientists from France, South Africa and the Canary Islands participated in the audience.
Dr. Letelier highlighted the importance of this joint initiative of chilean Fisheries Institutes Peru and Ecuador, as well as their researchers, to improve the certainty of the models through the reanalysis of historical information and the acquisition of new data. with a climatic change perspective, as well as the importance of reaching fishermen, small-scale aquaculturists and especially decision makers in the fishing sector in the 3 countries with this information. This is a collaborative initiative that we hope will flourish and reach the authorities and be consolidated through permanent multinational support for the generation of scientific information to support decisions related to the sustainable development of fisheries.
In the session presented: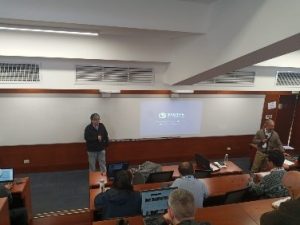 Instituto del Mar de Peru
Dr. Jorge Tam and collaborators: "Oceanic information system for characterization and forecasting of extreme events associated to climate change in the northern Humboldt current ecosystem."
Public Institute for Aquaculture and Fisheries Research
Msc. Telmo de la Cuadra and collaborators: "Development of the warning, prediction and observation system (SAPO) in the Humboldt ecosystem off the coast of Ecuador."
Fisheries Development Institute
Jaime Letelier and collaborators: "Chilean Contribution to the Observation, Prediction and Early Warning System of Climate Impacts on Fisheries of the Humboldt Current System (S.A.P.O.)."
Environmental Defense Fund (EDF)
Brad Parks y colaboradores: "An Early Warning, Prediction and Observation System (SAPO) for Fisheries Resilient to Climate Change in the Humboldt Current Large Marine Ecosystem."