Aysén schools carry out a scientific visit to IFOP laboratories
November 28th, 2022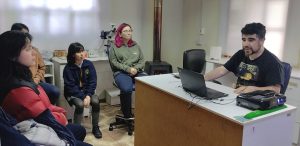 Colegio Santa Teresa and Gabriela Mistral Basic School of Aysén, visited IFOP headquarters in the area, within the framework of Universidad Austral Explora Aysén activities .
During the activity, a "What is the Red Tide" presentation was made addressing basic and general concepts, then microalgae were observed under a microscope, identifying main microalgae that produce marine toxins. Each visit lasted approximately 90 minutes. The students were received by Alejandra Lafon IFOP headquarters head and those in charge of carrying out the activity with the students were analysts Luis Iriarte and Lorena Ramírez.
Luis explained "it is a very pleasant experience to be able to share and disseminate part of IFOP's carried out activities with the school community, especially in red tides study field since it allows us to contribute a grain of sand to knowledge and dissemination of red tide events in the region".
Dr. Lafon added "As an Institute we are open to being able to coordinate the visit of students or give talks in schools to share and transfer our work in the Region".